Front Page
The life and times of Samuel A. Roberts: part 3
Jan 11, 2014
Samuel A. Roberts moves to Fannin County
Not long after the Lamar Administration left office, Samuel A. Roberts, Secretary of State for the Republic of Texas towards the end of Mirabeau Lamar's presidency, found himself in Fayette County getting married to the widow Lucinda Reed on April 8, 1842.
Afterwards the couple moved to Bonham at the urging of Samuel's brother-in-law, Palmer J. Pillans, and his wife, Laura (Samuel's sister). Pillans, using Bonham as his headquarters, was working as a field agent attempting to colonize land in north Texas for the well-known Charles Fenton Mercer.
In an unpublished autobiography, Pillans noted that Samuel and Lucinda moved to Bonham "[a]t my suggestion" and that Samuel "settled there and did well."
Pillans, also a lawyer, apparently squared off against his brother-in-law at some point in a Fannin County courtroom.
"While at the bar at Bonham," he wrote to a relative, "it gave me infinite pleasure to defeat your uncle Sam . . . in a case." (In 1849 the Pillans left Bonham and headed west, settling in Santa Fe. By 1853 they settled in the town that Laura once called home, Mobile, Alabama.)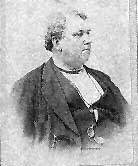 By the late 1840s, after Texas joined the Union as its twenty-eighth state, Samuel A. Roberts got involved in politics. Joining the Whig party, he became a delegate to local, state and national conventions in 1848 and 1852. Through law and politics, Roberts was quickly making a name for himself locally.

As an active politician, Roberts could not avoid the hottest debate topic of the late 1850s - the future of slavery. Some considered Fannin County one of the places where an anti-slavery movement might take root in Texas. And it was up to local defenders of the "peculiar institution" to block such a movement.

One key institution suspected of fomenting abolitionist sentiments in the county was the Methodist Episcopal Church of North Texas. In his coverage of the subject that appeared in the January 1965 Southwestern Historical Quarterly, historian Wesley Norton noted that the "area of the principal activity of the Methodist Episcopal Church in Texas included Johnson, Fannin, Denton, Grayson, [Kaufman], and Collin counties with the largest congregation from the beginning being located at Bonham." The entire area was known as the Texas Mission District.

Norton further noted that in 1855 the "Arkansas Annual Conference had met . . . at a school house on Timber Creek near Bonham, Texas, and one of its actions was to complete the formal organization of the Texas Mission District."

When it was announced that the Arkansas Annual Conference would meet again at the same schoolhouse on Timber Creek in 1859, North Texans became alarmed. Citizens from as far away as Collin and [Kaufman] counties met and called on their counterparts in Fannin County to inform the conference that anti-slavery rhetoric would not be tolerated.

The conference began on Friday March 11, and on Saturday morning a group of Fannin County citizens met at the courthouse to plan their opposition to it. There were many speakers, among them Samuel A. Roberts, who charged the church conference with advocating abolitionist sentiments and perhaps encouraging slave rebellion. Other speakers argued that similar conferences held in the north laid the groundwork for such activity.

As the courthouse meeting dragged on, a committee of three men composed of Roberts, John M. Crane, editor of the local Bonham Independent, and a General Green "were appointed to retire and draft appropriate resolutions" attacking the Methodist Episcopal conference. (Norton shows that newspaper and church accounts, printed in Methodist Episcopal publications, of the events always referred to Roberts as "Judge" Roberts, with the term judge always in quotation marks. Perhaps he was a local judge at the time?)

"The resolutions," Norton further wrote, "effectively summarized the views and feelings which had been expressed in the public assembly. Secret foes, intent upon the destruction of slavery, lurked among the citizens of Fannin County." The resolutions were:

to be implemented by a suitable committee sent to "warn them to withhold the further prosecution of said conference, as its continuance will be well calculated to endanger the peace of this community." The assembly bound itself further to "suffer no public expression of abolition doctrines or sentiments . . . to go unpunished." A committee of fifty was to confront the conference on Timber Creek with the decision ordering "the discontinuance of their meetings in this county, henceforth and forever."

According to Norton, the committee of fifty, with Samuel A. Roberts apparently acting as a key spokesperson, went to the conference and presented their demands. Conference leaders replied that they simply wanted to hold a peaceful meeting, just as they had four years earlier. Reason prevailed, and there was no violent confrontation. The Methodist Episcopal conference adjourned on Monday morning as planned without incident.

The committee of fifty, however, was not through condemning the conference. According to Norton, it "made a report to the citizens of the Bonham area on Monday, March 14." Norton wrote:

Old evidence against the Methodist Episcopal Church and its personnel was recounted and amplified. Once more resolutions of northern conferences were read – resolutions denouncing slavery, recommending that ministers work through the pulpit and the ballot box to accomplish extirpation, and urging that they circulate anti-slavery literature.

Other Bonham notables such as Gideon Smith and state legislator Robert H. Taylor also criticized the Methodist Episcopals for spreading abolitionist sentiments.

Roughly twenty months later, irreconcilable differences over slavery and a host of secondary issues hurled the country into civil war following the 1860 election of Abraham Lincoln to the presidency. As a result, Samuel A. Roberts found himself facing new responsibilities and renewing at least one old acquaintance.

(Correction to my previous piece: In my piece on Dr. Willis Roberts and family moving to Texas, I wrote that Dr. Roberts moved his family from Cahawba to Mobile, Alabama in 1820. That was based on information from Philip Graham's biography on Mirabeau B. Lamar. A Roberts researcher has since informed me that good evidence shows the move from Cahawba to Mobile actually took place in 1824.)

All images used thus far in the Samuel Roberts articles have been courtesy of Sarah Taliferro, a Roberts family descendant.

Thanks to Roy Isbell, a Roberts researcher, for information from the unpublished biography of Palmer J. Pillans.

Next: Samuel A. Roberts and the Civil War.