Entertainment
Sherman Community Players announces casting finalized for winter drama Rabbit Hole
Jan 15, 2014
Written By: David Lindsay-Abaire
Directed By: Anthony Nelson
Featuring: Molly Bower, Megan McCullough, Shane Beeson, Becky Smith, and Morgan Henard
Casting has been finalized and rehearsals are well underway for the highly anticipated winter drama, Rabbit Hole, produced by the Sherman Community Players. Nearly 30 potential candidates from the Sherman-Denison area all the way from Frisco auditioned for the 2007 Pulitzer Prize-winning drama by the prolific playwright David Lindsay-Abaire.
"I am very enthused to be working on this play, here, in Sherman…" states Artistic Director of the Sherman Community Players Anthony Nelson. "I first fell in love with the material back in '07 when I was introduced to it as an actor; I performed in it for the professional repertory company, Iowa Summer Rep. I found a respect for the way this guy (Lindsay-Abaire) writes, the dialogue is true to life, and it just flowed like real people having real conversations; that's not an easy task to achieve on paper, but Lindsay-Abaire certainly did, and that's what got him the Pulitzer."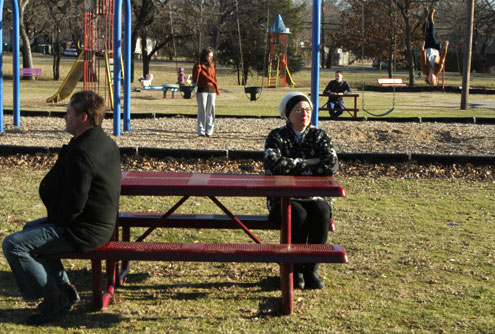 (L-R) Shane Beeson, Molly Bower, Becky Smith, Morgan Henard, Megan McCullough - photo courtesy: Frank Sanza
Rabbit Hole follows the lives of Howie and Becca Corbett, a couple who recently had a tragic event take place in their lives and now are learning how to cope and find comfort in the extremely unfortunate circumstances they find themselves in.
"It's a real drama—Rabbit Hole maybe something the Texoma Community isn't used to, but it's the kind of work that I think speaks to many different people, on many different levels. We are rating this one 'R' for adult content and language—but I really think the script stands on its own and the audience will be enveloped in the struggles of these characters," Nelson continues. "And it's not all dark and dreary; David Lindsay-Abaire actually began has a writer of comedies. This was his first drama, so there are definitely some humorous moments in the play that might surprise people, but we are not trying to make anyone laugh here, we want them to think and feel—like with any great piece of literature," explains Nelson. "And we have a great group of actors on this one—some new faces that SCP audiences have never seen before—its exciting to see actors travel from the metro-plex for material like this."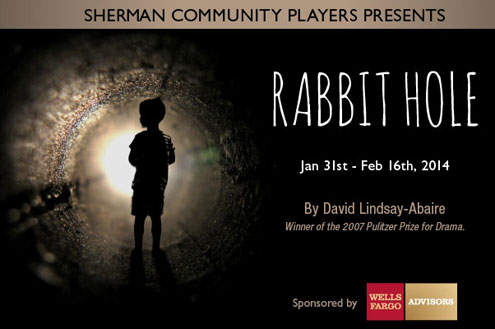 The Sherman Community Players are also holding open auditions this weekend for the Comedic Farce Boeing Boeing by Marc Camoletti
"We are looking for 6 hiliarious people to bring this world to life in the spring, so if you have ever had the itch to get on the stage, this could be a good time to try out; it never hurts to try!" Nelson says. "Plus SCP just got some nice notice from the Theatre Critics in DFW; one of our actors and one of the set designs from last year's season, were mentioned as being some of the best from the 2013 season—that makes me extremely pleased, that all our talent and hardwork is taken notice by not only the local community but by the metroplex—that's good for everyone in my opinion," states Nelson.
Tickets for Rabbit Hole will go on sale to the general public beginning the week of January 27 in the Honey McGee Playhouse, and interested parties can always find up to date information at www.SCPtheater.org or on SCP's Facebook page.