Columnists
Assignment: Texas with Russell A. Graves
Jan 6, 2014
Angel Fire
When I clicked my left boot into the bindings on the long ski, my balance was a little shaky at first but within seconds, I found the sweet spot. I'd been skiing before but three years has past since my last trip (which, incidentally, was my first) and these were my first burgeoning moments back on the New Mexican ski slopes.
Admittedly, I was a bit wobbly at first but after a minute or so, I was ready for the slopes. My kids picked it up again quickly as well. Just like riding a bike I guess. In just a few minutes after we arrived, we were back on the bunny slopes easing down the small hills at the Angel Fire Ski Resort in Northern New Mexico.
If you've never been there, Angel Fire is a delightful village in Northern New Mexico Rockies and has a base elevation of 8,600 feet above sea level. Looming over the village is an impressive 10,677 foot summit that sports over 500 acres of skiable terrain.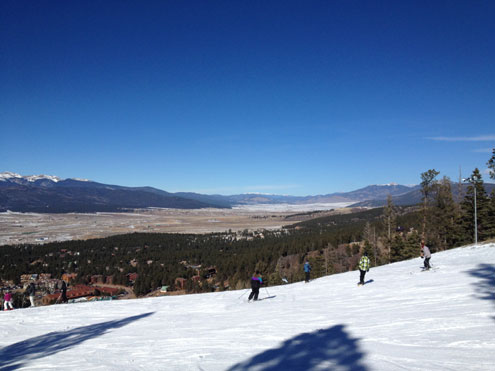 photo by Russell A. Graves
While we arrived right at sundown, I could tell the town of about 1,000 had a quaint mountain feel made for a tourist like me. The main drag that led me to the ski lodge was lined with inviting restaurants and ski gear rental shops and I could tell that my wife and kids would have a great time shopping for souvenirs.
We pulled into the Angel Fire Resort around 5pm Mountain Time, checked in at the lodge, and headed two blocks away to the condo we rented at the Snow Fire complex. The condos were big, two bedroom, two bath living quarters with a fully stocked kitchen and a laundry room that made staying and preparing meals easy. We were only a couple of blocks from the ski lifts and the nearly constant shuttle service made getting your gear from the condo to the slopes easy.
The Angel Fire Resort is an all-inclusive property that undoubtedly gears towards hospitality for its guests. In the lobby of the resort are a couple of restaurants, gift shop, coffee shop, an indoor swimming pool, and gear rental - everything you need for a long weekend of skiing.
After a couple of warm up runs on the bunny slopes, we caught the bigger lifts and went up the mountain. Admittedly, I am not an expert skier. I can keep my balance, turn to where I want to go, and stop on demand. As such, my taste in ski slopes mirrors my affinity for dirt roads. I like the paths where you can go slow and see the scenery.
At the top of the Chili Express lift, the green marked, Heading Home trail is a relatively flat trail that takes you across the top of the mountain back down to the bottom of the mountain. Along the way more experienced skiers can take the more challenging blue and black trails but they look too steep for me. I'm content to ski right past them.
Any questions or comments? Contact Russell at russell@russellgraves.com or visit his website at www.russellgraves.com