Local News
McKinney Main Street Board amends bylaws
Jan 8, 2014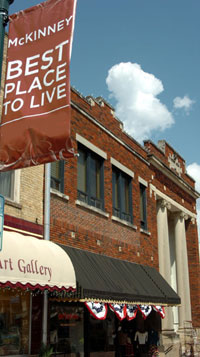 McKINNEY, Texas – McKinney City Council and the McKinney Main Street Board has recently approved amendments to the Bylaws of the McKinney Main Street Board. Several changes have been incorporated to reflect the alignment of the Bylaws with the City Council's Policy on Board and Commission Appointment and Eligibility.
Previously, the Board was composed of appointments made through the McKinney Main Street Board, the Downtown Property Owners, the McKinney Convention and Visitors Bureau, the McKinney Chamber, the City Manager, and three City Council appointees. The newly adopted bylaws allocate all the appointments to the City Council.
At this time, there are currently three appointments on the McKinney Main Street Board that will be filled by the City Council in February. Applications will be accepted through January 15, 2014 and are available on the City's website, at City Hall, or by contacting the Office of the City Secretary at 972-547-7505, shart@mckinneytexas.org.