Lifestyles
Registration for Paris Community Theatre Children & Teen Theatre and Art classes Saturday, Jan. 11
Jan 10, 2014
PARIS, Texas -- Registration for the Spring Semester of the PCT Children & Teen Theatre Program is Saturday, January 11 from 11:00 a.m. – 1:00 p.m. Registration and all classes are held at the PCT Brown Centre of Creative Arts, located just off the downtown square at 115 Clarksville Street (next to That Guys Coffee). Spring Classes begin the week of January 13 and continue through May.
In addition to theatre classes, PCT also offers a Children's Art Class taught by instructor Katherine Burns. This art class will explore various mediums and is for children ages 8-12. (Minimum of 5 students required). The class is Monday afternoons from 4pm-5pm and is $120 for the entire semester (includes supplies).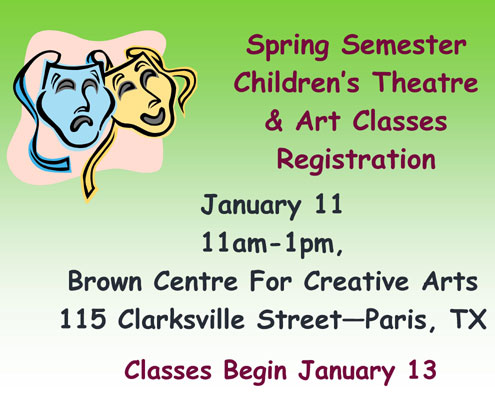 Theatre classes are available for kids in kindergarten through teen age. Creative Drama for children in kindergarten and 1st grade is taught by Ashley Pickering, who teaches middle school Drama for NLISD. This class will introduce your child to the world of acting through theatre games & dramatic play and includes spring skit. This class meets on Mondays from 4:15pm-5:15pm and is $95 for the semester.
Introductory Theatre Skills taught by Katherine Burns is for children in 2nd – 4th grade . This Class will introduce the Children to staging, blocking, movements, as well as voice and theatre skills. The class concludes with a Spring Play. Katherine Burns is a Teacher at Roxton ISD, and has taught PCT Children's Theatre for several years. Classes meet on Mondays from 5:15pm-6:15pm, and tuition is $95 for the semester.
Intermediate Theatre Skills & Performance taught by Laura Hutchings is for kids in the 5th-7th grade and includes the BIG Spring Production for area schools. Laura Hutchings has a BFA in Theatre Education & has served as the PCT Children's Theatre Director, as well as being a Teacher of Theatre for over 30 years. Classes are on Thursdays 4 to 5:15pm or from 5:30pm –6: 45pm. Auditions will be held during the first week of classes – all kids will be asked to audition on Thursday January 16th. Class time will be assigned after auditions. The tuition for this course is $105 for the semester plus a $25 production fee, which includes a play t-shirt.
Teen Theatre taught by Leah Maxon, is for teenagers in 8th Grade & up and includes a Teen Theatre performance in May. Cody Head is returning to PCT to once again teach teen theatre. Leah is currently earning a degree in theatre from PJC. Classes are on Wednesdays at 5:00pm – 6:00pm, and it is $105 for the semester.
For questions or more information call the PCT Box Office at 903-784-0259 or email pct@1starnet.com.