Entertainment
Terri Hendrix's annual Harmony House Concert Show Jan. 19
Jan 19, 2014
Be ready to get "re-charged" for 2014 by attending the Harmony House Concert on Sunday, January 19, 2014, 3:00 p.m.-5:00 p.m., where once again singer-songwriter Terri Hendrix, with gifted multi-instrumentalist Lloyd Maines, a legend in Texas music, will get your New Year off to a great beginning! Harmony House is located in a vintage home relocated to Wildscape Acres, www.WildscapeAcres.com, about 15 years ago.
Where else could you go listen to the upbeat, yet poignant, songs written by Terri Hendrix and arranged/produced by Lloyd Maines, who accompanies her with his consummate steel-guitar playing, in such intimate, cozy surroundings with friends or friends-to-be?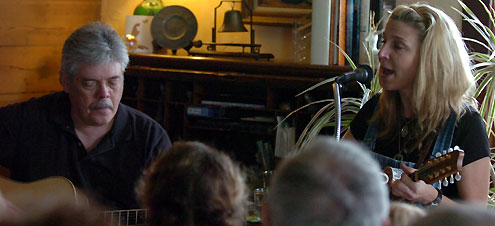 You can actually feel free to kick off your shoes and chat with Terri and Lloyd between songs. Wildscape Acres is located about 10 miles north of Bonham, TX and about 65 miles NE of the DFW area (a drive out of the city and down a country road will do you good). More info about Terri Hendrix and Lloyd Maines in short "bios" below. For more details, music videos, song clips, etc., visit Terri's website, www.TerriHendrix.com.
Make reservations for this show ASAP, as it has been a "sold-out" show for the past three years. Reservations are $15 per person and can be made by calling 903-583-2661, leaving the number of seats desired and a contact number (e-mail addresses preferred). To prepay, make your check to Terri Hendrix and send by snail mail to Faye Wedell; P.O. Box 812; Bonham, TX 75418, to be received by January 14. Refunds will be made to those having to cancel, if done so by that same date. Reservations can also be paid for at the door. However, if you make a reservation, please show respect for the performers and the hosts by either showing up or canceling in advance. Persons making reservations will be responsible for paying for them, unless canceled with adequate notification, as there will likely be a "waiting list" for this performance.
Terri and Lloyd will perform two 45-minute sets with a 30-minute intermission between sets for snacks provided by hosts, Faye and Scott. Bottomless cups of coffee, tea, hot cider, and cold punches are also available. If you want to help defray their expenses, you may make an optional $1 cash donation in a designated basket on the breakfast room table. Intermission gives guests time to purchase CDs, visit with the artist, and socialize and get-acquainted.
Harmony House Concerts is a welcoming venue committed to bringing excellent Indie musicians, with a variety of genres, to the NE Texas community of music lovers. To learn more about our history and Harmony House Concerts, visit our website, www.WildscapeAcres.com. See our 2014 "line-up" of artists on the Harmony House link.

If you are interested in sharing an optional Mexican Potluck Dinner at 5:30 p.m. with Terri, Lloyd, and other guests, please notify of your intent when making reservations. Indicate what you would like to bring....e.g. guacamole, salsa, queso, chips, green salad, beans/frijoles, enchiladas, etc. In keeping with their tradition, Scott and Faye will provide an assortment of tamales (chicken, pork, beef, and vegetarian)......since we think of Terri as being a banjo-playing; harmonica-playing; guitar-playing; mandolin-playing "hot tamale" herself!

A Song Circle will follow the dinner for all those interested in performing (don't have to be a "pro"); singing along; toe tapping; or just listening to others. P.S. Terri and Lloyd have been known to offer some songwriting tips and to teach a few licks to guests who bring their instruments.

Mini "bio" about Terri:

Terri Hendrix is an award-winning Texas songwriter who spins sorrow into joy and wrings wisdom from the blues with a poetic grace and uplifting melodic flair that has endeared her to three generations of loyal fans across the country and around the globe. As the San Antonio Express-News observed in a review of her latest album, Cry Till You Laugh, "Part of the beauty of Terri Hendrix's music is she's among the best at recognizing, writing about and celebrating resilience and common ground, the things we can all cry, and laugh, about."

The classically trained vocalist and deft multi-instrumentalist (guitar, mandolin and harmonica) has released more than a dozen albums on her own Wilory Records label, dodging musical pigeonholes her entire career by weaving folk, pop, country, blues and swinging jazz into an eclectic style all her own. That playful mix of styles, buoyed by her energetic stage presence and the accompaniment of legendary producer/guitarist Lloyd Maines, makes for a highly energetic and spiritually uplifting live show in any setting, from intimate listening rooms and theaters to festival stages.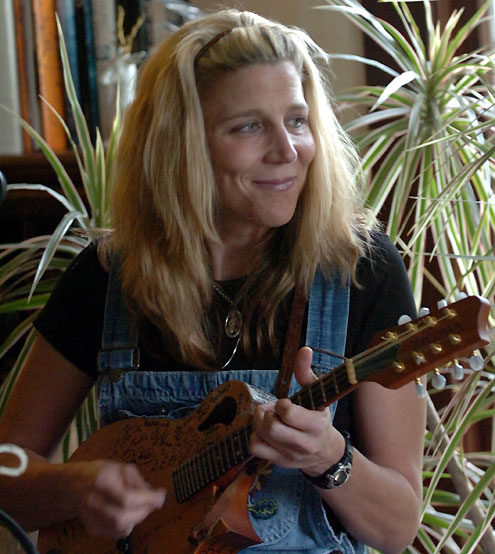 In addition to touring and recording new music, Hendrix recently wrote and published her first book, called Cry Till You Laugh — The Part That Ain't Art, containing song lyrics and essays on life, health, and going your own way in the music business. She is currently hard at work on launching a nonprofit community arts center in central Texas called the OYOU ("Own Your Own Universe"), which will promote the healing and therapeutic qualities of art and music for those in need. Visit www.TerriHendrix.com for her complete musical history (a fascinating story); song clips; music videos; quotes; interviews; and more.
Mini "bio" about Lloyd:
Lloyd Wayne Maines is an American Grammy Award-winning country music record producer, musician and songwriter. He was born and raised in Lubbock, Texas and is now based in Bastrop, Texas.
Arguably best known as a pedal steel player, Maines is a multi-instrumentalist who has also performed and/or recorded playing dobro, electric and acoustic guitar, mandolin, lap steel guitar, banjo and bell tree. He toured and recorded as a member of the Joe Ely Band and has also played with Guy Clark, Butch Hancock, Terry Allen, Jimmie Dale Gilmore, Golden Bear, and other Texas musicians. Maines was a member of The Maines Brothers Band in the late 1970s and early 1980s and has contributed to alt-country releases, including Uncle Tupelo's Anodyne and Wilco's debut, A.M.
Maines began producing some of his own music, branching out beginning with other country artists, early on starting with Terry Allen's seminal 1979 album, Lubbock (On Everything). He has produced and worked on recording projects with numerous artists, including the Bad Livers, Richard Buckner, Roger Creager, Pat Green, Butch Hancock, Wayne Hancock, Terri Hendrix, Rita Hosking, Ray Wylie Hubbard, Intocable, Robert Earl Keen, the Lost Gonzo Band, Charlie Robison, Owen Temple, Two Tons of Steel, Jerry Jeff Walker, The Waybacks, and Martin Zellar. He frequently tours with Terri Hendrix throughout the United States, and is a major part of her band and production as an artist.
Maines won a Grammy Award for Best Country Album in 2003 as producer of the Dixie Chicks' album, Home. As the father of Natalie Maines, lead singer of the Dixie Chicks, he was instrumental in bringing the current lineup of bandmates together in 1995, which jump-started their sudden popularity and change in sound. Susan Gibson's "Wide Open Spaces," which had been sent to Maines, proved to be a hit from their debut album, and has remained their signature song.