Front Page
Kathrynís Texas Kitchen
Dec 29, 2013
To most Texans the Great State Fair of Texas means Big Tex, corny dogs, new automobiles and rides.
However, to Texas cooks it means the cooking contests held in the Creative Arts Building.
Those contests bring out the fierce competitor in Texas cooks and 2013ís State Fair was no exception.
Many cook competitors donít even visit any sites at the State Fair other than the Creative Arts Building which has been a surprise lesson to me.
Saturday, September 28 was the first cooking contest held in 2013. Judging was for 10 classes of breads. A new Texas State Fair record was set when 185 breads were entered. There were six classes of breads made with yeast. The remaining four classes were for quick breads.
Prior to the fairís opening day canned goods are entered and judged in August. This judging is not open to the public. There is a limit of 10 classes of canned goods that one cook can enter. All entries must have been made after September 1 of the previous year and the written entry deadline is in July. To find out the specifics look up www.bigtex.com and click on Creative Arts. Fees to enter are normally only $2.00 per entry which is very affordable for the home cook.
Categories in the Food Department are vegetables, fruit, preserves, marmalades, butters, pickles, jelly, sugar free jelly, jam, and sugar free jam. The smallest category was sugar free jelly with one class for any type of jelly. Jelly had the largest number of classes with 29 closely followed by 28 classes in pickles. I gave up on entering my jellies two years ago as the judges never liked any of mine. Although my family does like them and that is more important to me.
This was my second year to enter the Food Departmentís canned goods contests in categories other than jellies and jams. In 2012 I entered five classes. Even though I only placed in two of the classes, green tomato relish and okra and tomatoes, I decided to enter eight classes in 2013. Iím not sure if Iíll be entering the limit of 10 classes in 2014 or not. It depends on what I can get made this upcoming spring and summer.
While planning my green tomato relish this past summer, I ordered a box of green tomatoes from Mr. Lemley at the Dallas Farmers Market. He only brings in green tomatoes on the weekends but for a box he needs advance notice. Iím a tomato lover from birth and Iíve found he has the BEST OF THE BEST TOMATOES at the Dallas Farmers Market. Mr. Lemley was glad to fill my order and I was set to get to work.
First was making my green tomato relish which had placed third in the 2012 State Fair.
Yes to those who wonder, canning any food is a lot of work. But once you get down the basics itís really not that hard. It just takes some planned time and the right kitchen equipment. In fact I made an out of the ordinary pasta sauce last night using some of my canned stewed tomatoes, which placed second in 2013 at the State Fair.
After making and canning the green tomato relish this year I still had a lot of tomatoes and they were all turning red. So, I decided to make and can a red tomato relish. What a very right unplanned decision that was. The relish turned out to be delicious and the only hard part was remembering to write down every ingredient and every step in making it so I could turn in the recipe to the State Fair with my entry.
The 2013 State Fairís food contests were very good to me. Blue ribbons (1st place) were awarded to both my red tomato relish and pickled peppers other than jalapenos. My first blue ribbons in six years of entering the Texas State Fairís cooking contests!
Believe me I was shocked when I got the letter from the Fair informing me that I had won in these categories. I was so thrilled and excited! What an honor! My winning entries were displayed with all the other winners in the Creative Arts Building throughout the State Fairís season.
So, my message to all you readers is that if you have always thought about entering any food contest at the State Fair, DO IT! Youíll never know if you donít enter. Just remember the judges are different every year.
Today Iím going to share my red tomato relish recipe that won one of my first blue ribbons. The recipe will not be published in the State Fairís Creative Arts cookbook next year. If you have any questions,please let me know.
Blue Ribbon Red Tomato Relish
Recipe courtesy of Kathryn Williams-Guzman
Ingredients
1Ĺ quarts tomatoes (about 10 large), peeled, cored and chopped
1Ĺ cups chopped celery
1 cup chopped onions
1/8 cup Kosher salt
Ĺ quart white vinegar
1Ĺ cups light brown sugar
2 oz mustard seeds
1 cup chopped red peppers
Ĺ tsp cinnamon
ľ tsp ground allspice
ľ tsp ground cloves
Other Items Needed
Measuring cups and spoons
Cutting board
Chefís knife
Large bowl
Colander
Large pot
Wooden spoon
Pot holders
Hot jars with lids
Extra large pot for boiling water bath
Jar holder (look in the canning section of your grocer)
Instructions
Combine the tomatoes, celery, onions and salt in the large bowl. Cover and refrigerate overnight. Drain thoroughly. Place them in the large pot. Add the rest of the ingredients. Cook until the tomato mixture is thickened. Fill into hot jars leaving ľ-inch head space. Adjust caps. Process 15 minutes in boiling water bath.
Now that Christmas and New Year activities and celebrations are in the rear view mirror, Kathrynís Texas Kitchen will prepare a light dish to help get back on a better track in the 2014 New Year.
Until next timeÖ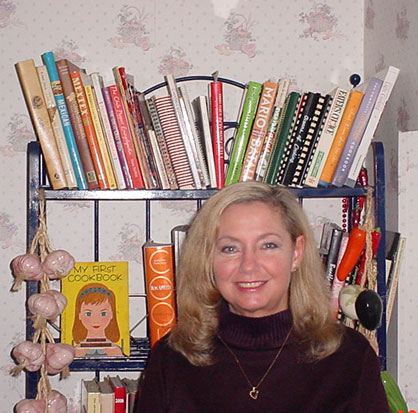 Bon appťtit!