Front Page
Crow's-Feet Chronicles: Santa is a stimulant. Who knew?
Dec 29, 2013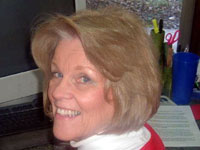 Because Santa Claus blessed me with a plethora of gadgets this Christmas, I've been deployed to terra ignota (land of the unknown)---the kitchen.

When Lanny asks me what I want for a gift, I usually give him an idea. My swift response saves me from getting a bottle of Blue Waltz perfume or a cheesy teddy that no grandmother should ever have to struggle to snap in place.

Keeping it safe this year, I answered, "Oh, I guess I could use a new can opener. Or maybe a timer to replace the one that got too close to the skillet and melted all the numbers higher than 30."

Lanny probably went to the kitchenware department at Walmart, found a Farberware soft-grip manual can opener, put it in his basket, found a better hands-free Tornado can opener, put it in the basket, and then placed an even better Hamilton Beach electric can opener in his basket. The same with kitchen timers. And he wrapped them all separately!

The gadget Christmas didn't stop there. Lanny also gave me a Cuisinart coffee maker with hot water dispenser, as well as a Mr. Coffee coffee mill. The coffee beans mean that pouring a cup of coffee is like the refreshing locker room shower that has to wait until four quarters of football are played.

Christmas Day belonged to Lanny and me, since we had our family celebration and church service on Christmas Eve. Our day began by propping up on pillows in bed and enjoying cups of coffee while watching, of all things, "Morning Joe" on TV. Jackson snoozed nearby.

We migrated to the den, where we built a fire in the fireplace, curled up on the sofa, and enjoyed more coffee. (Controlling the TV volume helped Jackson and me survive the outrageously loud grinding of the beans in the coffee mill.)

Maybe it was the caffeine that made me chatter incessantly. Suddenly, I jumped up and exclaimed, "I'm going to try out the water dispenser and have a cup of tea!" I had so many tea flavors from which to choose---Christmas blend, Earl Grey, Hazelnut Chai, African Honeybush…

After I drank enough cups of tea to empty the water reservoir, I cupped my ears while Lanny ground more coffee. Moments later, the Texas pecan coffee bean aroma filled the house. After stoking the fire, Lanny settled back on the sofa with a fresh-brewed cup of coffee.

That's when I switched back from tea to more coffee and my heart rate jumped to triple digits. In fact, I'm sure my heartbeat could have been measured on the Richter scale. Nothing compares, though, to caressing a Christmas mug of deliciousness with both hands and watching a flickering fire in the fireplace.

My midafternoon, Lanny dropped out of our caffeine marathon. If I couldn't sit in the recliner and suck on a used coffee filter, I wanted more tea. That's what started the second half of my caffeine-a-palooza as I filled the water reservoir and enjoyed Adagio Passionfruit, Oriental Spice, Forest Berries, and Tropical Sampler.

I haven't blinked since Tuesday.