Front Page
Fannin County Commissioners Court addresses alleged price gouging during ice storm
Dec 24, 2013
Bonham -- The regular meeting of Fannin County Commissioners Court opened with hearty wishes of a Merry Christmas for all county residents from Fannin County Pct. 2 Commissioner Stan Barker on behalf of all the commissioners and the county judge, but the mood in the courtroom quickly became serious as the subject turned to allegations of price gouging by at least one business during the recent ice storm.
"It has been brought to my attention that we had someone take advantage of others," stated Fannin County Judge Spanky Carter in reference to reports of price gouging during the ice storm that blanketed Fannin County on December 6. "I want everyone to know we will not tolerate it. Price gouging is illegal. If your regular price is $200 and you decided to charge $1,200 when our residents were in a difficult situation, I will promise to do everything I can do to make certain you will be prosecuted. I will talk to the district attorney; I will talk to the police. We will not take advantage of our citizens. If you were engaged in price gouging, you need to make it right."
"I commend you for that," said Fannin County Pct. 1 Commissioner Gary Whitlock. "I've also heard the same thing."
The Texas Attorney General's website says that price gouging is often a concern in the aftermath of a disaster and notes that the agency will vigorously prosecute individuals and companies that engage in price gouging or other scams against disaster victims.
The website goes on to explain that if you feel you are being unfairly charged for goods or services such as drinking water, food, batteries, generators, gasoline or towing, raise the issue of price gouging with the provider.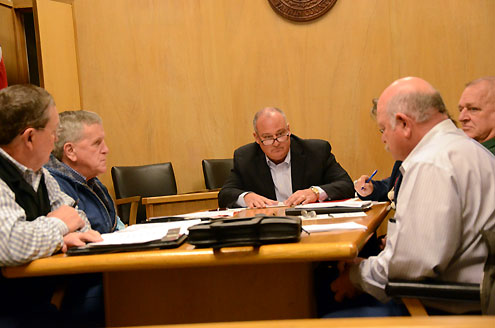 Clockwise, left to right: Fannin County Pct. 3 Commissioner Jerry Magness, Fannin County Pct. 1 Commissioner Gary Whitlock, Fannin County Judge Spanky Carter, Fannin County Pct. 2 Commissioner Stan Barker and Fannin County Pct. 4 Commissioner Dean Lackey