Lifestyles
'First Day Hike' at Copper Breaks State Park
Dec 31, 2013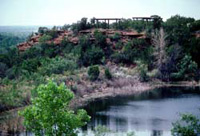 QUANAH, TX—Start a new New Year's tradition on Wednesday, Jaunary 1, 2014, at Copper Breaks State Park. Take a "first day" hike with a park ranger at the park at 10:00 a.m. and 2:00 p.m. The hike will be guided by park ranger Carl Hopper who will point out wildlife, plant life, geological features, and discuss area history and folklore and tell stories.

Hopper will also draw tall tales, ranger stories, and outright lies from his experiences growing up in what is now called Copper Breaks.

All participants are urged to have comfortable walking shoes, a hat or cap, and plenty of water.

"A short hike is a great way to start on those new years' resolutions," said ranger Hopper, "Life is better outside."

For more information on the First Day Hike, or other park programs or facilities, contact the park during regular business hours at 940-839-4331. Copper Breaks State Park is located 13 miles south of Quanah and eight miles north of Crowell on State Highway 6.