Front Page
Bonham group submits alcohol petitions
Dec 19, 2013
The Bonham Committee for Economic Growth will submit to the Bonham City Secretary petitions signed by City registered voters calling for a local option alcohol election next May.
The group was issued the petitions on November 7 and collected more than 500 signatures of Bonham City voters in less than two weeks. State law allowed the group 60 days to gather the 444 required number of signatures in order to call the election.
One petition calls for a vote for the legal sale of beer and wine for off-premise consumption only. This will only allow beer and wine sales in businesses such as grocery and convenience stores but will not allow package liquor sales or liquor stores. The second petition states "for the legal sale of mixed beverages in restaurants by food and beverage certificate holders only." This will only allow state recognized restaurants to serve alcohol without requiring the "private club" memberships. This will not allow stand alone bars or nightclubs.
"Studies show that 'dry' areas have more highway fatalities than 'wet' areas because people have to drive further to purchase alcohol and grocery stores report for every $1 dollar lost in beer/wine sales, they lose an additional $3 in general sales. This could mean over $400,000 in local sales tax revenues and create over 170 new jobs." said Allen Sanderson, Vice Chairman and President of Fannin Bank and Treasurer of the group. "Now the people of Bonham will have the opportunity to vote next May to keep those dollars in Bonham."
Gabe Parker, owner of Homestead Winery, stated, "According to the Texas Restaurant Association, it can cost restaurants $3,000 to $20,000 per year to meet the requirements of being a private club. This does not create tax revenue for a city nor create jobs. It is just bureaucratic fees that increase costs that are passed on to the consumers. This is why so many communities in Texas have voted to support their local restaurants and change the law."
The City Secretary will now have 30 days to verify the petition signatures and submit her report to the Council at their February 10, meeting. If enough signatures are declared valid, the Council is required to order the election for May 2014.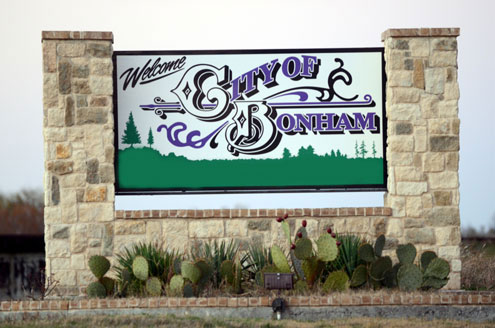 Paid for by the Bonham Committee for Economic Growth
230 East 3rd Street * Bonham, Texas 75418