School News
Two Prosper High School students advance to District Constitutional Oratorical Program
Dec 30, 2013
American Legion Bill Bryan Post 110 of McKinney, held its first Constitutional Oratorical competition on Wednesday evening December 11, 2013, and is proud to announce the winners. Bronson Bendezu, a 9th Grade Student from Grace Academy of Prosper, and sophomore Victoria Millen of Prosper High School, successfully completed the contest and earned the opportunity to advance to the District Level competition that will be held in January. Bendezu and Millen will represent Bill Bryan Post 110 and compete against other high school students from the 4th District of the American Legion that encompasses 24 Legion Posts from 7 counties in North Texas.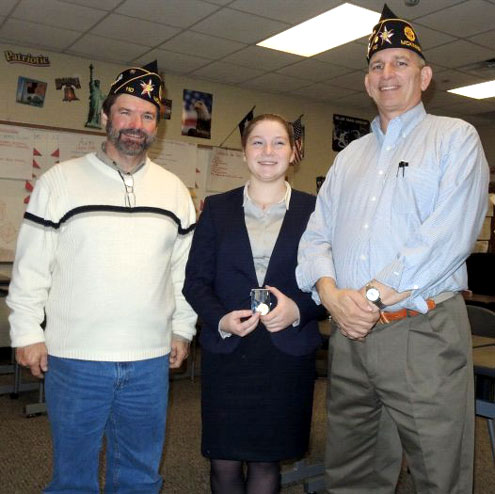 Victoria Millen, with Ralph French and Jim Meiseman of Bill Bryan Post 110
Due to recent weather-related schedule alterations at local schools, the competition had to be held at two separate venues; Collin County Courthouse and Prosper High School. The Honorable Barnett Walker, judge of County Court 2, allowed the use of his courtroom for the main proceedings. The Honorable Benjamin Smith of the 380th District Court and Honorable Jay Bender of Collin County Court 6, lent their knowledge of the US Constitution by agreeing to act as judges of the competition.
The contestants in this competition recite an eight- to ten-minute oration on any aspect of the US Constitution, which is then followed by a three- to five-minute oration on one of four random amendments that are assigned for the competition.
One winner from the district level will advance to the Division semifinals held in early February. Winners from each of the four Divisions of the State of Texas will compete at the Department Level (State) Competition, on Presidents Day, February 17, 2014, in Brenham, Texas. The overall winner will go on to represent the State of Texas at the National competition in April, in Indianapolis, Indiana.
Bill Bryan Post 110 of the American Legion is one of the newest American Legion Posts in the State of Texas having received its Charter from the Department of Texas American Legion in April, 2013. The Oratorical Program was initiated by the American Legion in 1938 and helps promote Americanism and knowledge of the United States Constitution for high school students.