Entertainment
Serendipity and the Creative Arts Center
Dec 22, 2013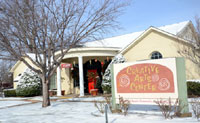 December can be a serendipitous month, especially if one gets into the spirit of the season. This month at the Creative Arts Center, the Art Is Study Group presents its exhibit - Serendipity. A similar display to last year's LandMARKS Exhibit, this group of seven artists has brought some terrific talent to the gallery walls.

Not only are finished works on display, but the studies and sketches that helped bring those paintings to life are also included. This helps the viewer understand how the artist arrived at the finished piece - includes them, if you will, in the process of producing art.

The Creative Arts Center will be open for the pre-Christmas season, including Christmas Eve, so visitors can see this interesting show and shop for last-minute treasures. On the heels of the Sweets, Spirits & Sparkles shopping bazaar, they report there are many one-of-a-kind, handcrafted gifts left to choose from for holiday shopping.

Hours are Tuesday through Friday from 10:00 a.m. to 5:00 p.m. and Saturday from 9:00 a.m. to 1:00 p.m.

The gallery will be closed starting Christmas Day through New Year's Day, reopening Thursday, January 2.