Front Page
Patty Kreider named Artist of the Month at Legend Bank
Dec 15, 2013
Patty Kreider has been selected as Artist of the Month at Legend Bank. Her work is on display at Legend Bank located at 502 North Center Street, Bonham, Texas. You can also stop by the Creative Arts Center located at 200 West 5th Street, Bonham, Texas to see more of Patty's work.

"My jewelry represents an idea that is more than just mere beauty. It is sculpture. It is art. It is an experience in texture and movement and detail," says Patty. "I make jewelry art because I can't NOT make jewelry art. Something compels me. Some eccentric, personal force from inside me, maybe. I'm not sure what to name it, or how to describe it. Maybe next year or next month I'll know. But not now.
"My pieces are crafted from raw materials - loose stones - sheets of precious metals. They are not assembled from pre-made components. I hammer, saw, hand-shape,and solder the raw metals into intricate and lyrical shapes. I set loose stones into hand-formed bezels. I create, in metals and stones and gems, my vision, inspired by the stones themselves, or by some inner muse that compels me, and hand from it into my original art jewelry."

A Texas girl from birth, Patty Kreider was born in Fort Worth and raised in Mesquite, Texas. She received her bachelor's degree from (formerly) North Texas State University. After graduating with a B.S degree in Recreation and Leisure Services, Ms Kreider attended the art school of NTSU for two years where she studied a wide variety of media.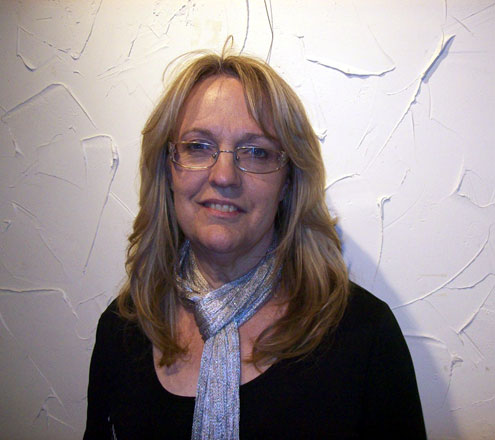 Patty Kreider
Congratulations to Patty and thanks to Legend Bank for supporting our local artist.