Front Page
Travel Quest: Ireland - part 1
Dec 15, 2013
"I-Rish You Luck"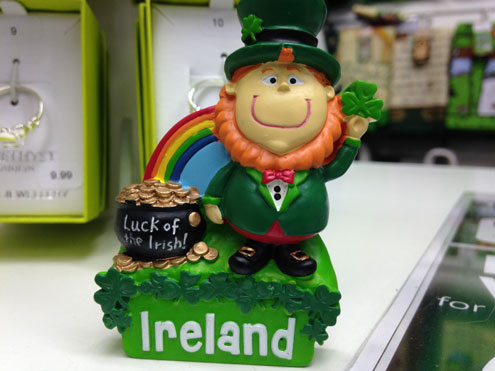 Ireland makes me think of leprechauns, shamrocks, and limericks. Lanny and I decided to visit Ireland during Thanksgiving. Just like in America, the Irish decorate for Christmas before Thanksgiving. Oh wait---Ireland doesn't observe Thanksgiving.
Little-known fun facts about Ireland intrigue me:
*Ireland is the only country in the world which has a musical instrument – the harp – as the national symbol, and the oldest one in existence, dating back from at least 1300, is housed in Trinity College in Dublin. I know---you thought Ireland's symbol was the shamrock.
*Ireland is the third largest island in Europe and the twentieth largest in the world. What? You didn't know Ireland is an island?
*Up until 1973, many women employed in the public service faced mandatory retirement once they got married. That's what I'm talking about.
*One of the most popular radio shows in rural Ireland is still the daily broadcast of local obituaries.And there's often not much time between the last Guinness keg party and the wake.
*Ireland is a snake-free island. The only fangs are found in Agnes O'Malley.
*An odd Irish birthday tradition is to lift the birthday child upside down and give his head a few gentle bumps on the floor for good luck. The number of bumps should allegedly correspond to the child's age plus one. I'm wondering if the cut-off birthday is based on age or weight.
*The original Guinness Brewery in Dublin has a 9,000 year lease on its property, at a perpetual rate of 45 Irish pounds per year. Job security is "stout" for Guinness employees.
*One traditional Irish cure for a hangover was to be buried up to the neck in moist river sand. It's difficult to find someone to bury the suffering Irishmen, since all of their buddies are too hung over to dig.
*Montgomery Street in Dublin was once the largest red light district in all of Europe, with over 1600 prostitutes plying their trade. An old Irish song called "Take Me up to the Monto" memorializes this era.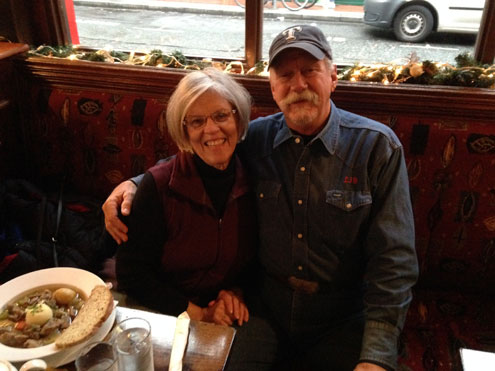 Dublin is called "the city of villages" and Lanny and I chose a Bed and Breakfast in the suburbs as our headquarters. We made sure to take care of our restroom needs before leaving each morning, since toilets were a challenge to find. That seemed odd to me. The Irish are such a cheerful and jolly people that I'm surprised they don't go to the bathroom.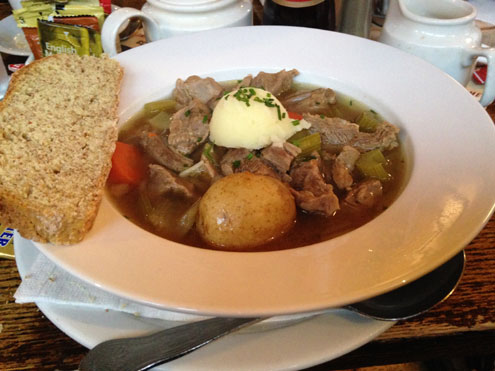 While Americans in the States were preparing turkey and dressing on Thanksgiving Day, I was ordering a traditional Dublin dish---Irish Stew. The bread, broth, and veggies were delicious.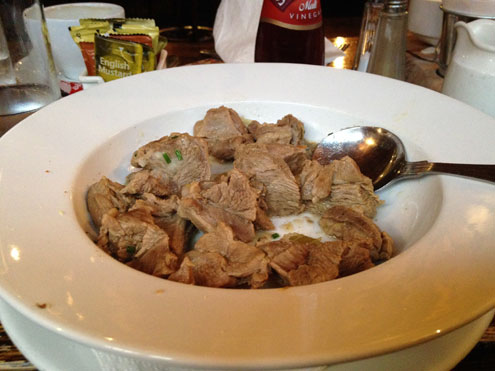 The lamb? Not so much.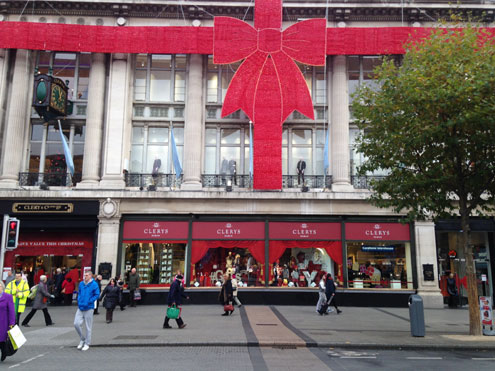 Downtown Dublin is wrapped in beautiful Christmas packages.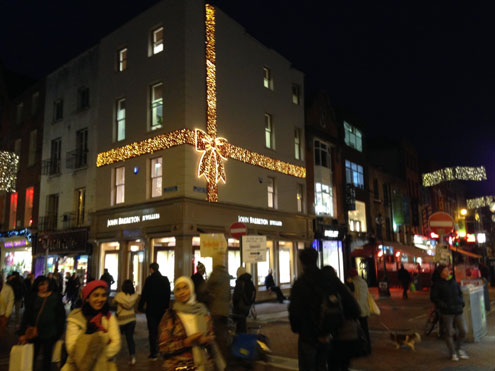 The ribbon is taut and the bows are tied with precision.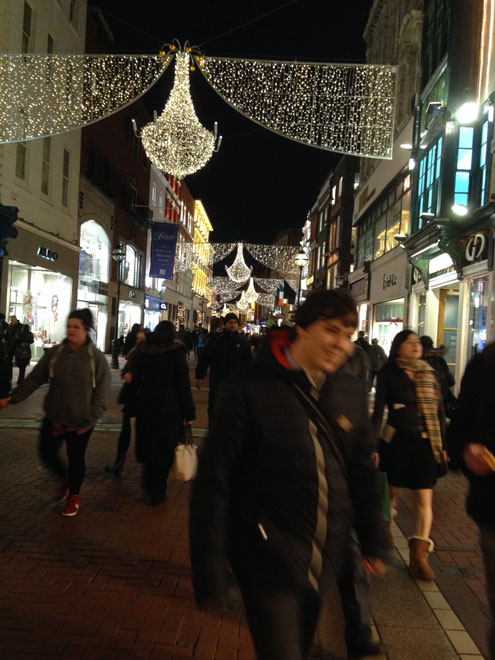 The side streets compete with holiday flavors.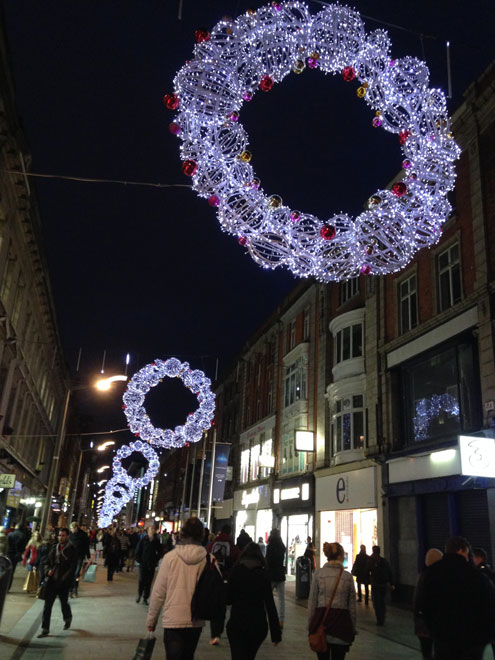 Shops compete for the almighty Euro. Lanny and I did some Christmas shopping, and Lanny kept an eye out for store specials. "So do ya see the tirty-tree and a-tird sale over dere?" he asked.(He loves practicing his brogue.) Lanny kindly expressed to the "auld wan" (old woman), who pushed ahead of us at the check-out counter: "I tot it was me turn in line."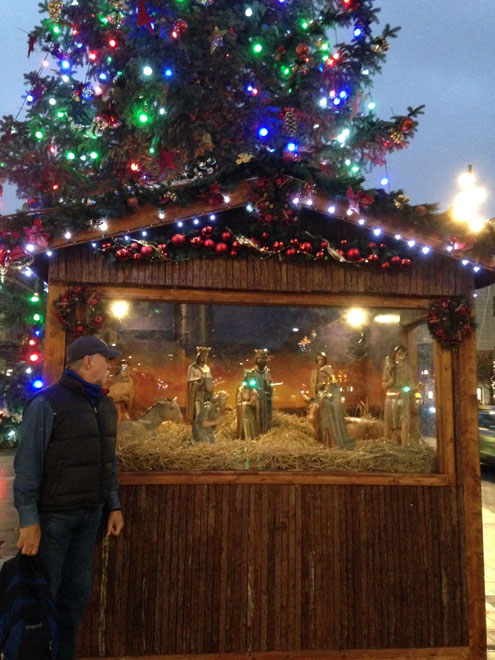 In Dublin, the Nativity Scene has all the characters in place . . . with the exception of Baby Jesus, who will make His appearance on Christmas Day.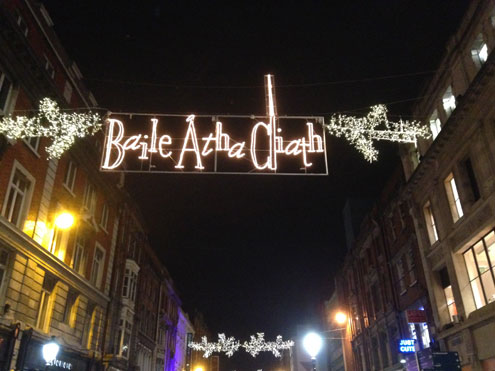 The official Irish name of Dublin is BaileÁthaCliath. Keep in mind that it will be pronounced differently by different speakers. Any attempt to indicate Irish pronunciation by reference to English sounds is only an approximation. The name of the city is normally pronounced as run together--Blawclee-ah.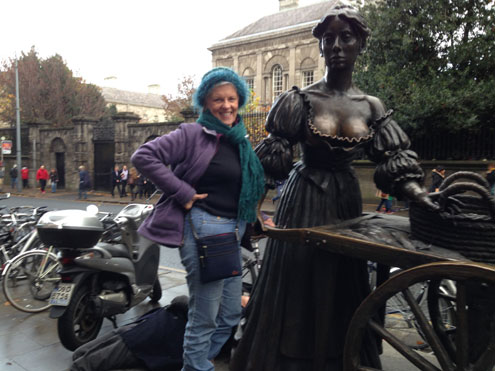 The Molly Malone statue on Grafton Street was unveiled by Lord Mayor of Dublin, declaring June 13 as Molly Malone Day. The statue shows Molly pushing a cart of "Cockles and Mussels."
Recently, a legend has grown up that there was a historical Molly, who lived in the 17th century. She is typically represented as a hawker by day and part-time prostitute by night.
In contrast, she has also been portrayed as one of the few chaste female street-hawkers of her day.
There is a popular song, which has become the unofficial anthem of Dublin City and was featured in the movie "A Clockwork Orange." The song tells the tale of a beautiful fishmonger who plied her trade on the streets of Dublin, but who died young of a fever.
"In Dublin's fair city,
where the girls are so pretty,
I first set my eyes on sweet Molly Malone,
As she wheeled her wheel-barrow,
Through streets broad and narrow,
Crying, "Cockles and mussels, alive, alive, oh…!"
The statue of Molly has been colloquially called "Dish with a Fish," "Tart with a cart," "The Flirt in the Skirt" and "The Dolly with a Trolley." As you can see in the photo, Molly's statue is taller than I. Otherwise…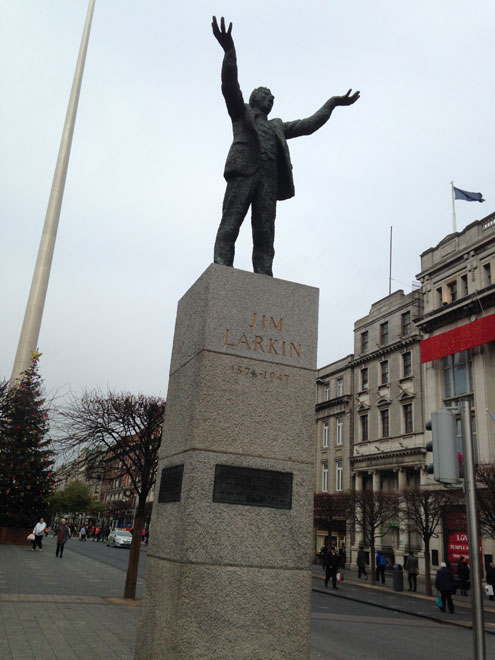 James Larkin was an Irishtrade union leader and socialist activist. Today a statue of "Big Jim" stands on O'Connell Street in Dublin. A big-boned, large-framed man with broad shoulders, "Big Jim" stooped over ordinary men when he was speaking to them. He had long arms and legs and great hands like shovels. His big, rounded shoes were shaped in front of him like the rear of a canal boat.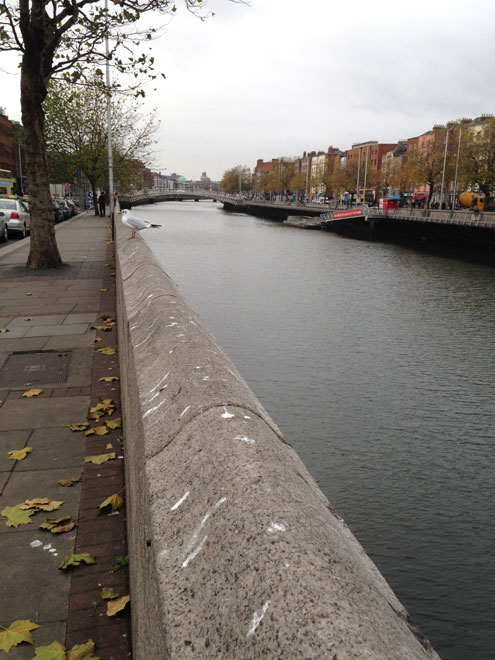 The Liffey (Life in Irish) is a river in Ireland, which flows through the center of Dublin. A popular myth is that Liffey water is used to brew Guinness. The following comes from Gaelic Storm, "Punjab Paddy" album, "How Are We Getting Home?"
"You can keep your Michael Flatley with his tattoos on his chest
Fare thee well, Sweet Anna Liffey, it's the Ganges I love best
I found a place in India so far across the foam
You can call me Punjab Paddy, boys, I'm never comin' home!"
Liffey travels through the center of Dublin, into Dublin Bay, and out to the Irish Sea.
There are lots of bridges along the Liffey, such as the Ha'penny Bridge, so called because it used to cost half a penny to cross it.I figure that River Liffey will wear a covering of green-tinted foam on St. Patrick's Day.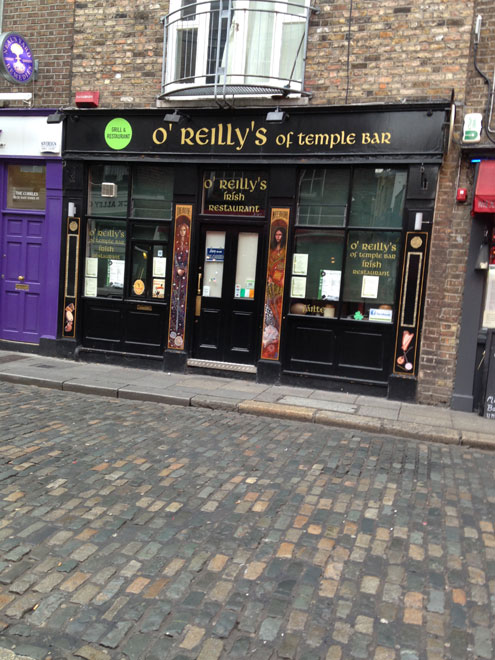 O'Reilly's of Temple Bar -- Temple Bar is an area on the south bank of the River Liffey in central Dublin. Unlike the areas surrounding it, Temple Bar has preserved its medieval street pattern, with many narrow cobbled streets. It is promoted as "Dublin's cultural quarter" and has a lively nightlife that is popular with tourists.
Favorite dishes include traditional Irish lamb and Guinness beef stews, Atlantic salmon, Connemara Mussels, Prime Irish beef steaks, homemade Irish soda bread, apple tarts and Ma Reilly's famous bread and butter pudding with a wicked chocolate sauce.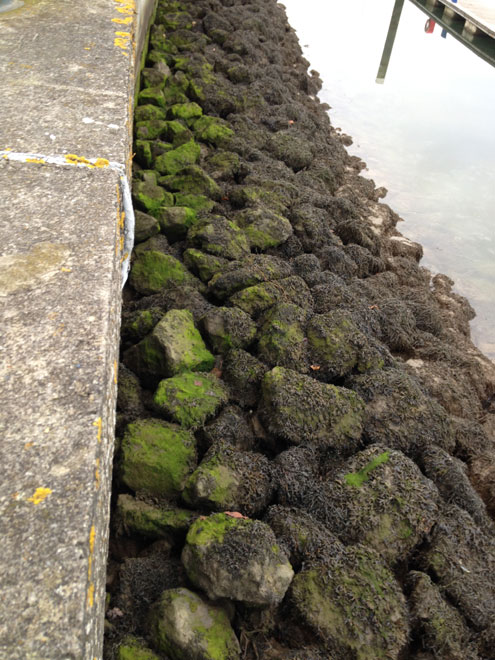 Lanny and I got off the city bus and walked along the water's edge, considering the mossy-covered rocks to be picturesque. Situated on the Irish Sea, they provide a unique border for the walkway of shops. We stopped at O'Brien's to take in some local conversation. It was overcast, windy, 95% humidity, and 40 degrees.The Paddy behind the counter said, with a melodic Irish lilt in his voice: "Ye looked out on the weather today, eh!"
Lanny asked him for assistance: "What's the quickest way to Malahide Castle, Pal?"
"Are yagoing on foot or on the bus, me lad?"

Lanny answered, "On the bus."
The Irishman replied, "Aye, dat's the quickest!"