Columnists
Crow's-Feet Chronicles: Leaving on a jet plane
Dec 11, 2013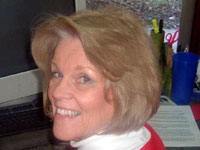 No one has to tell me on a vacation when it is time to go home. It's nothing obvious like taking my last Airborne lozenge. It can be as simple as standing in a line waiting for the city bus, and suddenly I'm being shoved aside and I yell, "Those pushy Irish again! This isn't the Monaincha you're defending, sweetie. It's only a seat on a bus!" I'm testy and I know it.

I was sick of eating pork & beans over toast in Ireland. When Lanny told me an icon was over 1,000 years old and was only steps from the bus, I yawned and said, "Describe it to me." My homing instincts kicked in. A carnival could fill the streets outside our B&B window and I would opt to stay in the room and watch BBC. Lanny can always tell when I'm on Vacation Overload. If there are two hand towels and only one bath towel hung on the bar in our bathroom, when there should be two bath towels to go with the two hand towels, I growl.

Our room is always either too big or too small. There is no pleasing me on the last days of a vacation. It's someone's law---the shorter your stay, the more elaborate your room. But in Dublin, we were jammed in a broom closet for nearly a week and had to turn off the TV with our toes.

I paused just outside the room we had been assigned. I noted a small gold plate on the door that read Daniel Day-Lewis Room. I kicked open the door. The blue satin curtains sagged like a dirty diaper and had a few pins missing. The carpet was threadbare and the radiator was a monument to ugly. "I don't care if Daniel Day-Lewis comes with the bed," I snapped. "I'm leaving."

I stayed, though, and I tried to remind myself that accommodations are part of the adventure. We have stayed in the best and the worst of them. We have been guests in Paradise where there is a hair dryer on the wall, a terrycloth robe on a hook, heated towel racks, and toilet paper that is folded over into points.

We have also visited Flop City with a bottle opener on the door, a room key that dangles from a piece of wood the size of a tree trunk, a nude woman fashioned into a lamp with the switch in her navel, and nothing on the wall but the room rates.

You can always tell when vacationers are going or coming. Travelers who are at the beginning of a trip laugh and tell jokes. Their clothes match. They see a line and they go to the end of it.

Those returning are impatient. Every plane they board is like the last one out of Baghdad and they are going to be on it.

Something else happens to me that I cannot explain. I become as American as the Fourth of July. I can't wait to see the Sonic Drive-In TV commercials or Governor Rick Perry's picture welcoming me to Texas (seriously?). I want to hear Walmart shoppers yell, "Get out of my face!" I want to eat hamburgers so fat I can barely fit them in my mouth. I want to spend "real" money. I want Diane Sawyer to tell me how the world has fared in my absence. I want to smell clean clothes, drink tap water, and sleep in my own bed.

But reentering the world I have left is not an easy thing. I must pay a price for exploring new cultures. I cannot just get on a plane, arrive home, and pick up life where I left it. I first have to go through a rite of passage, a ritual as old as man himself.

It's called jet lag.