School News
An algorithm for getting home faster and safer
Dec 25, 2013
SHERMAN, TEXAS—The highways and bridges that crisscross Texas today would amaze Austin College's earliest graduates, who likely reported to classes on foot or by horseback.
Interstates, toll roads, HOV lanes, and the congestion that often accompanies these are commonplace to today's young drivers in Texas cities.
What might state transportation look like in another 165 years?
Making that future transportation system better is the goal of the Texas Department of Transportation.
Early this fall, the agency issued a TxDOT College Challenge, calling upon four-year public and private colleges and universities to form interdisciplinary teams to develop innovative concepts that address the state's future mobility, connectivity, and transportation safety requirements.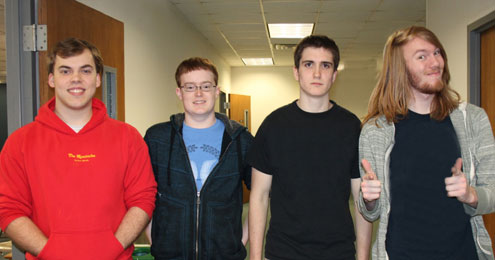 Austin College junior Daniel Blackwell of St. Charles, Illinois; sophomore Gabriel Clark of Colleyville, Texas; sophomore Jeremy Laurin-Steinbrenner of McKinney, Texas; and sophomore Robert Wells of Bonham, Texas; took on the challenge.
For their Entrepreneurship class, they proposed a cellphone app that would provide improved traffic measurement data into a trip-planning algorithm.
The app would allow drivers to minimize travel time, with the added benefits of reducing congestion, lowering air pollution, and slowing the demand for new highway construction. Dr. David Griffith, Jack B. Morris Chair in Entrepreneurial Studies, taught the course and serves as the faculty member of record for the project.
The Austin College students' project has been named a semi-finalist in the TxDOT Challenge, and the students will present the project in a state-wide finals competition in Austin, Texas, in January 2014.
Judges considered projects on the basis of fit to TxDOT strategic goals, innovativeness, business potential and value creation, quality of description, and sustainability and relevance for society.
Austin College is a leading national independent liberal arts college located north of Dallas in Sherman, Texas. Founded in 1849, making it the oldest institution of higher education in Texas operating under original charter and name, the College is related by covenant to the Presbyterian Church (USA). Recognized nationally for academic excellence in the areas of international education, pre-professional training, and leadership studies, Austin College is one of 40 schools profiled in Loren Pope's influential book Colleges That Change Lives.