Front Page
CASA's newest volunteers
Dec 4, 2013
Bonham -- Four local people recently completed at least 34 hours of training and 2 hours of courtroom observation in order to become volunteer advocates for children in foster care. The Honorable Judge Lauri Blake administered an oath to the new CASA volunteers in the 336th District Court after training was complete. New child advocates include Priti KC, Mary Norris, Dave Gehalo and Chantal Carey.
All volunteers completed an intensive training class which has prepared them to serve as Court Appointed Special Advocates (CASA) for children who have been removed from their home due to abuse and neglect. The district judge appoints CASA volunteers to serve as the Guardian ad Litem for each child who has been placed in the state's custody. In that role, the CASA advocates will investigate the child's situation, prepare written reports to the court and advocate for the child's best interest in court hearings and other settings.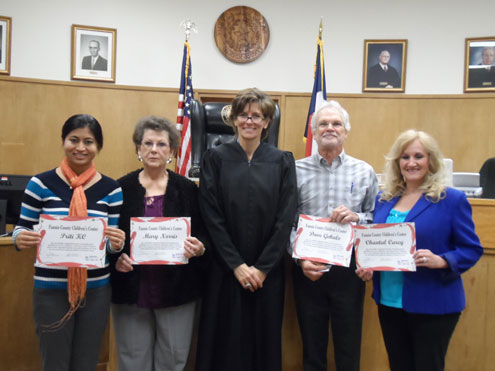 336th District Judge Lauri Blake recently swore-in the newest CASA volunteers to become advocates for children in foster care – (from left) Priti KC, Mary Norris, Blake, Dave Gehalo and Chantal Carey.
All of the new advocates were assigned new cases immediately, thereby bringing the center back to having a volunteer advocate for each child in CPS care. However, as new children are removed from their homes, more advocates will be needed. Therefore, a new training class has already been set to start in February 2014. Classroom time will be on Tuesday evenings from 5:30 – 9:30 pm on Feb 4, 11, 18 and 25. There will also be assignments that volunteers must complete on their own time and volunteers must observe in the courtroom for at least two hours. Anyone interested in becoming a CASA can contact Sandy Hood now to begin the application process which will include background checks and a personal interview.
CASA is one program of several programs for abused and neglected children that are operated by the Fannin County Children's Center. For more information, call (903) 583-4339 or visit www.fanninccc.org.