Front Page
Long-range winter forecast
Dec 4, 2013
The official NOAA Winter Outlook came out in late November, and it projects that North Texas has a slightly better chance for warmer-than-average winter temperatures compared to the other two categories of a colder-than-average, or average winter temperature.
However, our winter is getting off to an unusually cold start with artic air expected to hang tough from December 5 through December 12; so does this mean the forecast is bogus? Well…not so fast.
Three-month Texas weather outlooks rely to some degree on the latest El Nino/La Nina trends. In a nutshell, we tend to get more precipitation during an El Nino (when the waters of the tropical eastern Pacific are warmer than average). The frigid and snowy winter of 2009-2010 happened during a strong El Nino episode, but some El Nino winters are warm and wet.
A La Nina means that the waters of the tropical eastern Pacific are colder than average and this usually leads to a warm and very dry winter for Texas like we had in 1999. But this year, we are in a "neutral" pattern with neither an El Nino nor a La Nina evident.
Another factor is the North Atlantic Oscillation (NAO). This is an expression of how surface pressures in the northern part of our world relate to pressures further south over the central Atlantic Ocean.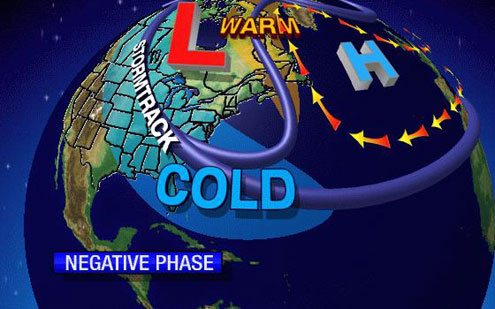 A negative NAO generally signals a greater penetration of cold air southward east of the Rockies, while a positive NAO tends to favor mild and dry winter weather through most of the nation.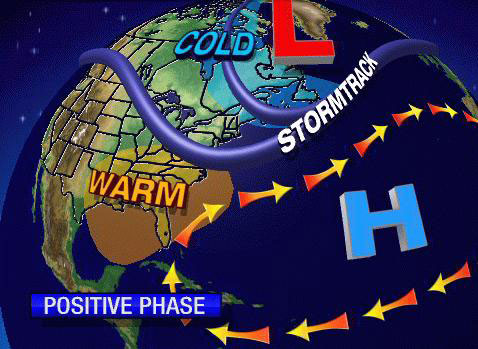 The NAO tends to fluctuate over cycles from three to six weeks in length, but patterns favoring one over the other sometimes last for years. There has been no clear-cut NAO pattern during the past few months.
The cold and snowy Texas winter of 2009-2010 was helped along by a strongly negative NAO; El Nino made for an active southern jet and more moisture while more cold air than usual making it into Texas because of the negative-NAO upper level wind flow.
So, in essence anything goes this winter. There are no clear signals to offer solid clues one way or the other for what our winter might be like in either temperature or precipitation averages. I think the NAO is the thing to watch; our temperatures and precipitation will be influenced by its sometimes fickle changes.
Please remember that we're talking about the whole winter (Dec-Jan-Feb) averaged together; a single severe cold spell or 80-degree week must be factored into the entire winter to get the average for the season.
So, it will be interesting to see what transpires for Texas' 2013-2014 winter season.
Happy Holidays!
Steve LaNore
Be sure and check out Steve's books, Weather Wits & Science Snickers Question Quest!: Student Workbook (Weather Wits and Science Snickers Workbook) (Volume 1), Question Quest Lesson Guide (Weather Wits Question Quest) (Volume 2), and Weather Wits and Science Snickers: Corny Jokes and Cool Facts! (Volume 1) by Steve LaNore and Elizabeth Cox