Front Page
Public tours Derrell Hall Education Center
Dec 3, 2013
Bonham -- Fannin County residents were promised an AgriLife Extension Office that would be a local source of pride. At the long-awaited grand opening Monday evening, Fannin County AgriLife Extension Agent Bethany Arie went a step further.
"I think we have one of the best facilities in the state," said Arie as visitors toured the building, officially named the Derrell Hall Education Center. "We are very proud of it and I think it will be a great benefit to the community."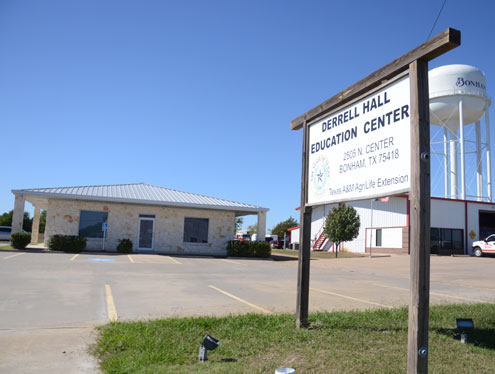 Derrell Hall Education Center
Fannin County Judge Spanky Carter made it a top priority to secure a permanent home for the Extension Office that would meet residents' needs for years to come. By all accounts, Carter, and the other members of Fannin County Commissioners Court, came through with flying colors.
The 3,200 sq. ft. building is located on 4.262 acres at 2505 North Center Street in Bonham. Most of the $225,000 needed to buy the building had already been set aside. The purchase and renovation of the local Extension Office was a carefully planned, pay-as-you-go project. By curtailing departmental spending, commissioners managed to place $200,000 in a line item on the 2012-2013 county budget specifically dedicated to securing proper facilities for Fannin County AgriLife Extension Office.
On February 25, 2013, Fannin County Commissioners Court announced the new Fannin County AgriLife Extension Office would be named in honor of former county judge Derrell Hall, a lifelong county resident.
Mr. Hall has more than 27 years of service to Fannin County, including Fannin County Commissioner (1985-1992), Chief Juvenile Probation Officer (1993-1996), and Fannin County Judge (1997-2007).
Fannin County Judge Spanky Carter recalled his own years as an attorney representing clients across North Texas and southern Oklahoma and, in particular, the impression Hall made during the 10 years Hall served as Fannin County Judge.
"I've never been in front of a judge who was fairer to everyone," said Carter. "Derrell Hall is a great role model for Fannin County."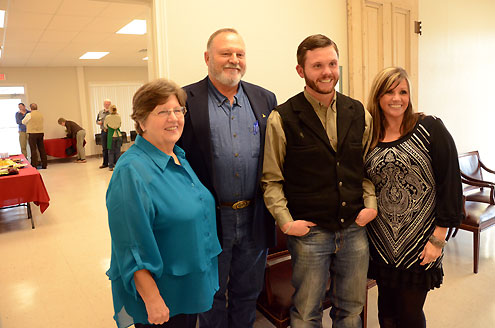 (L-R) Connie Aplin, Derrell Hall, Cody Maxwell and Bethany Arie
For Fannin County Extension Office, the decades-long journey to a permanent home included several stops along the way. In 1991, the local Extension office moved out of Fannin County Courthouse to the Rayburn Center, current home of Fannin County Appraisal District. Unfortunately, a fire severely damaged the Rayburn Center in the early '90s and the Extension Office moved to a temporary location in Bonham. After the fire damage had been repaired, the Extension office moved back to the Rayburn Center. Then the Extension Office was moved to the current site of adult probation for three years before another move, this time to the South Annex. When Fannin County Court at Law was set up in the South Annex, the Extension Office was soon on the move again.
On October 4, 2013, the Extension Office moved into the Derrell Hall Education Center.
"It has been nonstop," Arie says of the whirlwind of activities in the two months that have followed.
Take the conference room, for example. Master Gardeners, Master Naturalists, 4-H clubs, Extension committees, Fannin County Fair Board and other county boards have already scheduled meetings in the conference room.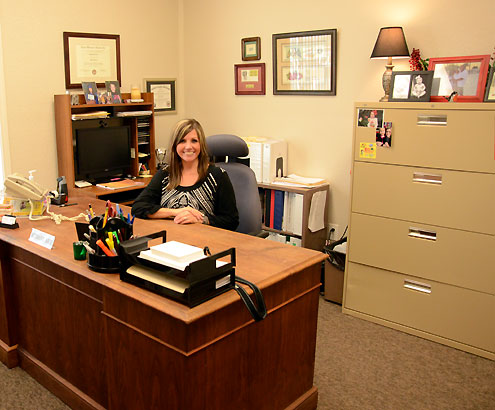 Bethany Arie, County Extension Agent-Family & Consumer Sciences/4-H, Fannin County sits in her new office.
As nice as this facility already is, don't be surprised if the best is yet to come for the Derrell Hall Education Center. A rainwater collection system may one day utilize runoff from the building to irrigate demonstration gardens located on the four acres immediately behind the facility.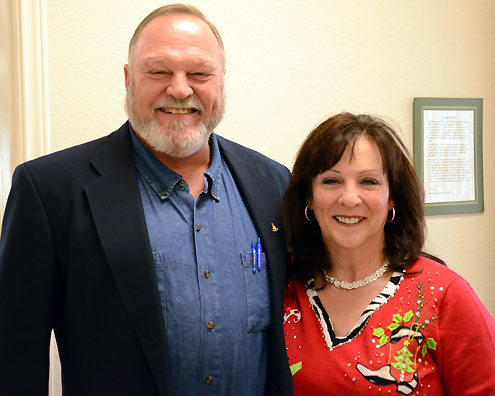 Derrell Hall and Carolyn McFarlin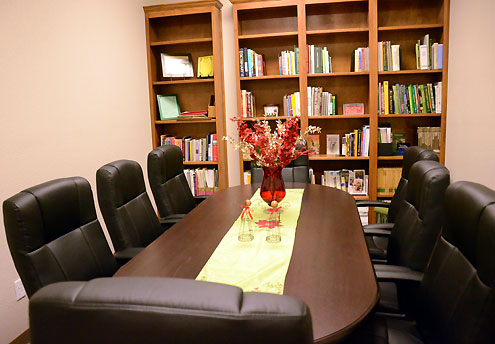 Conference room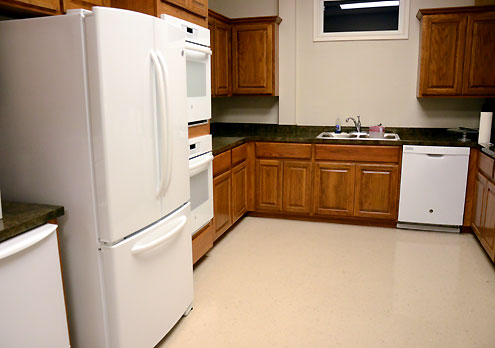 Spacious kitchen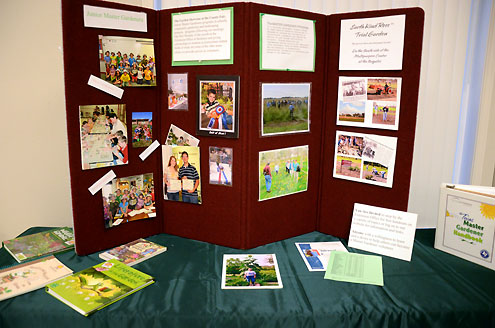 Master gardeners exibit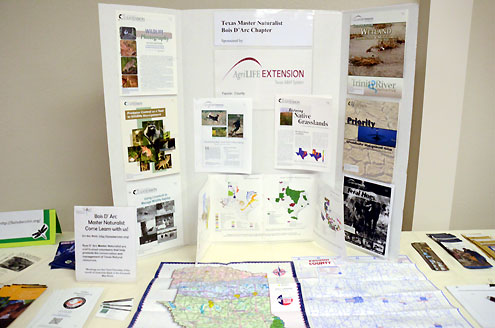 Master Naturalists exhibit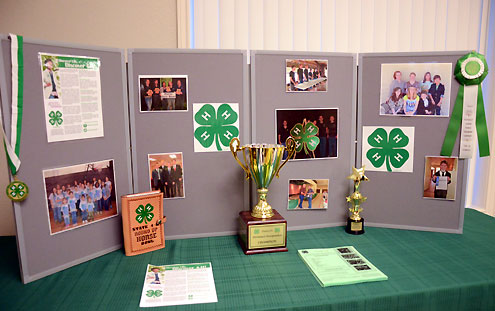 4-H exhibit