Entertainment
Songwriting workshop led by recording artist David Roth Dec. 8 in Denison
Dec 8, 2013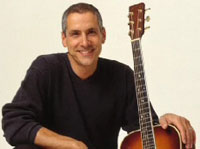 Denison -- Aspiring composers and singers from teens to seniors will be able to hone their skills at a song-writing workshop led by renowned singer, songwriter, and recording artist David Roth on Sunday, December 8.

The workshop is 2:00-4:30 p.m. at Red River Unitarian Universalist Church, 515 N. Burnett Ave. in Denison (at Bond St., one block north of W. Morton). Cost is $30 at the door.

Roth's music has been performed at Carnegie Hall, the Kennedy Center, the United Nations, and Peter, Paul & Mary concerts. It has also found its way into the classic folk-singing book Rise Up Singing and several Chicken Soup for the Soul books.

He has taught and performed in such venues as the Augusta Heritage workshops (WV), Puget Sound Guitar Workshop (WA), Common Ground on the Hill (MD), Rowe Conference Center (MA), Swannanoa Gatherings (NC), and Summersongs (NY and CA).

The Chicago native has 25 years of full-time music-making experience, has twice sung the national anthem for National Basketball Association games and has performed his music in several foreign countries as well as across the U.S.

"Don't believe what they tell you on American Idol," Roth says about song-writing and performing. "Music is for everyone and it's not supposed to sound a certain way, you're not supposed to look a certain way, and no one can judge, compare, or quantify your creative expression."

Participants may bring musical instruments to the Denison workshop if they wish, but playing one isn't necessary. Roth describes the workshop as "highly interactive" and "geared toward getting you jump-started on the music you've been longing to make or reconnect with."

The workshop, he notes, is for ALL levels of music-making ability and requires "no experience whatsoever!"

Participants will write, listen, and learn from each other, and Roth will address specific questions from attendees.

More information is available by calling 972-658-1188 or at www.rruu.org, including directions to the church.