Farm and Ranch
30th National Cowboy Poetry Gathering pays tribute to legendary horsemen Bill and Tom Dorrance
Jan 9, 2014
"Listen to the horse. Try to find out what the horse is trying to tell you. All we are trying to do is fix things up to where he can find them; then it's the horse's idea." —Tom Dorrance
Elko, NV — Horses loom large as subjects of cowboy poetry—good horses, bad wrecks, untimely deaths, and odes to equine partners are perhaps the genre's most pervasive topics. If you listen to these poems, however, it is clear that the horse has not always been treated as a partner. The history of horsemanship has been brutal at times. Enter brothers Tom and Bill Dorrance.
Raised on a ranch in northeastern Oregon in the early 1900s, the Dorrance brothers ignited a revolution in the way we handle and train horses in the American West. They taught themselves how to start and work horses and their approach grew out of their desire to "get along" with the horse—to create a willing partner. Lucky for people and their horses, the Dorrances shared their horsemanship skills, fundamentally changing how we train horses, and forever altering our relationship with them.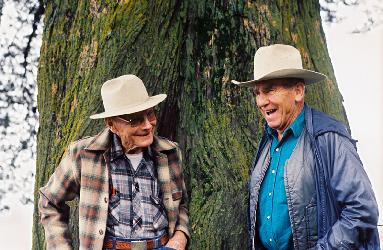 The National Cowboy Poetry Gathering is paying tribute to these master horsemen in a session called True Unity: The Legacy of the Dorrance Brothers at the 30th anniversary event, January 27 to February 1, 2014, in Elko, Nevada. The session will take place Friday, January 31, from 1:00 to 2:30pm in the Western Folklife Center's G Three Bar Theater, and former students of Bill and Tom will swap stories of these great teachers and explore their legacy to us and to our equine companions. Among the presenters are Mike Beck, singer-songwriter, horse trainer and clinician; Ellen Eckstein, international level dressage trainer and instructor; Bryan Neubert and his son Jim Neubert, both horse trainers and clinicians; and Randy Rieman, cowboy poetry reciter, horse trainer and clinician, who will moderate the session.
"It would be hard to overstate the profound impact Tom and Bill Dorrance had on horsemanship," says Rieman. "Not just in the cowboy West, but nationally and internationally. Though different in many ways, the brothers shared a passion for horses based in a deep understanding of what motivates a horse's actions and a sincere appreciation of the horse's point of view. Their insightful and non-conventional approach to horse/human relations is about as good a thing as has ever happened in the equine world."
The National Cowboy Poetry Gathering presents cowboy poetry and western music, fine western gear, films, workshops, discussions and dances. The 30th anniversary event will have a clear focus on encouraging the next generation of rural people working on the land to work together to ensure the sustainability of the occupational and artistic traditions of the rural West. For more information and tickets to the 30th National Cowboy Poetry Gathering, visit www.westernfolklife.org, or call 888-880-5885.
The 30th National Cowboy Poetry Gathering is produced by the Western Folklife Center and supported by NV Energy, Barrick Gold of North America, Newmont Mining Corporation, Sage Foundation, Nevada Humanities, Nevada Arts Council, National Endowment for the Arts, Elko Convention and Visitors Authority, the City of Elko, The Bretzlaff Foundation, WESTAF, The Reno Rodeo Foundation, and many more foundations, businesses and individuals.
The Western Folklife Center is dedicated to exploring, presenting and preserving the diverse and dynamic cultural heritage of the American West. We celebrate the wisdom, artistry and ingenuity of western folkways through exhibitions, educational programs, national radio and television programs, research and preservation projects, our website, and our premier event, the National Cowboy Poetry Gathering. We nurture connections among rural and ranching cultures globally, exploring universal themes in working traditions and artistic expression, which we believe are vital links to the past, present and future of the American West.