Front Page
Joint meeting of Bonham City Council, Bonham ISD Board of Trustees focuses on new developments
Oct 29, 2013
Bonham -- Change is coming to Bonham, although not as quickly as some residents would prefer and no current project epitomizes that sentiment more than the rate of progress along Hwy 121 North through Bonham. As Hwy 121 rapidly becomes the most important thoroughfare in Bonham and with Bonham High School located just east of the state highway, construction progress was an important subject of interest at a joint meeting Monday, October 29 of Bonham City Council and Bonham ISD Board of Trustees.
Work on the project to widen Hwy 121 North from two lanes to four lanes with a 15-foot raised median separating traffic was originally scheduled to begin March 4, 2013. At a pre-construction meeting February 26, 2013 in Bonham City Hall, residents were told phase one, which consisted of construction on the east side of Hwy. 121, was expected to be completed by November 2013, with estimated completion of the entire project in September 2014.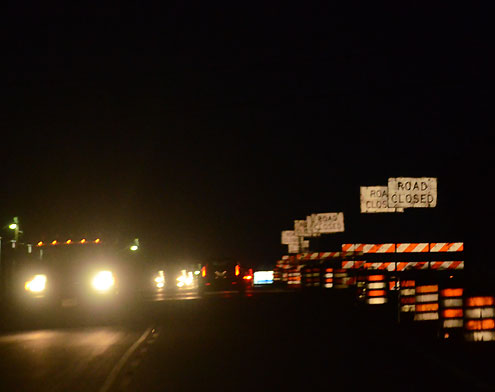 Hwy 121 North
Monday evening, TxDOT Acting Area Engineer Dan Perry explained that issues involving drainage and elevation have slowed the project. Perry said special elliptical drainage pipe had to be ordered in order to meet drainage capacity demands without altering elevation.
"In the next couple of weeks, we expect to get all the pipe buried," Perry stated.
Subcontractors will then move signal lights to their new permanent bases.
Perry estimates that the entire widening project can be completed by December 2014.
"That's not to say it won't look complete a little sooner than that," added Perry.
Dan Perry
In late December 2013, TxDOT will begin resurfacing Hwy 121 South from Bonham to the Randolph area.
"As you've driven it, you know there are some rough spots," said Perry.
The US 82 expansion is on schedule and Perry predicted that crews can begin laying pavement in late November or early December and moving towards Bonham, although he cautioned that it would be a lengthy process.
With congestion and accidents increasing rapidly on the two-lane section of Hwy. 121 from the Collin County line south to Melissa, Perry was asked if TxDOT was responding with plans to widen the highway to four lanes.
"Not that I know of," said Perry, noting that the Dallas District of TxDOT is aware of the problem.
Bonham Police Chief Mike Bankston asked if the flashing yellow turn signal at the conjunction of Hwy. 56 and Hwy 121 was the result of state or national transportation policy and was told that Texas had adopted the national standard, which calls for the flashing yellow turn signal.
"We went from three accidents in 12 months to 17 accidents in three months, including two fatalities," Chief Bankston stated.
Bankston is concerned that too many drivers fail to comprehend that a flashing yellow turn signal means the driver must yield to oncoming traffic.
"Let us look into it," a TxDOT representative responded.
The school board segment of the meeting included an artist's rendering of how Bonham High School campus could look if an ag barn is placed east of the vocational building and a new softball field is placed south of the tennis courts. The new softball field and the football field at Warrior Stadium will both have artificial surfaces.
Warrior Stadium will seat 6,000 spectators and plans are in the works for a Thursday - Friday - Saturday football event that would showcase improvements to area teams. There are currently more than 200 students that live in the Bonham school district, yet choose to attend other schools in the area. Improved facilities could attract some of these students back to Bonham ISD, which would result in an increase of revenue.
The City of Bonham segment of the meeting focused on capital improvements such as the renovation of the downtown fire station, the addition of 12 new aircraft hangars at Jones Field to accommodate some of the 17 people currently on a waiting list. This project is primarily funded by a TxDOT aviation grant that pays for 90% of the construction. The City of Bonham is responsible for picking up 10% of the tab and that expenditure will be more than offset by increased revenue from the new hangars.
Holiday Inn Express, a $4 million project will most likely break ground in January 2014.
Kelso Technologies is on the brink of breaking ground for new 40,000-sq. ft. building in Bonham Industrial Park in order to accommodate an increase in manufacturing. Kelso Technologies is expected to more than double employees -- from 35 employees currently to approximately 65 employees.
Renlita Doors is another local success story that has taken on additional space for manufacturing and now has approximately 15 employees.
Trans Cable International, located in the east end of the former General Cable plant, is expected to be operational in January and ramp up to 30 employees.
The City of Bonham continues to repair streets, although rainy winter weather will be a factor. Evans Street was named as one of the streets in dire need of work in the near future.
Evans Street
The Hwy 121 zoning overlay was also discussed as a means to impose standards on accessibility, landscaping and parking on plots of land three acres or larger that abut Hwy 121 North.
"The real elephant in the room is the two lakes," remarked Bonham Mayor Roy Floyd.
Lake Ralph Hall is the first lake in Texas to be permitted in more than 30 years and Lower Bois d'Arc Lake Reservoir is expected to be permitted within the next year.
"People move to water," predicted Mayor Floyd.