Local News
Hope Concrete Company expands in Commerce
Nov 6, 2013
The Commerce Economic Development Corporation welcomes the expansion of Hope Concrete Co. to Commerce. This family owned business has been in existence since 1961, founded by C.E. Hope in Bonham, Texas. Hope quickly became a reliable and consistent concrete supplier, as well as a trusted business owner and employer.
As his sons joined the business, operations included a sand plant in Oklahoma, expanded to Sherman/ Denison area (in 1980), and after many years and a few retirements later, will now include a facility in Commerce.
Whether it is a specialty project, common residential or commercial project, or a large highway project, Hope Concrete Co. can handle it all.
With plants and equipment throughout the North and West Texas area, they have the capability to provide superior service and competitive pricing, all under tight time restrictions and in a safe manner.
Hope's Manager, Tim Foley, remarked, "We have delivered concrete to the Commerce area off and on as needed for many years and feel we can do a better job by becoming a part of the community. We are excited to be here."
CEDC Executive Director Bonnie Hunter is excited for the project to begin and the CEDC looks forward to having Hope Concrete Co. in our city.
With the rise in construction throughout Commerce and the surrounding communities, this is a win for all parties.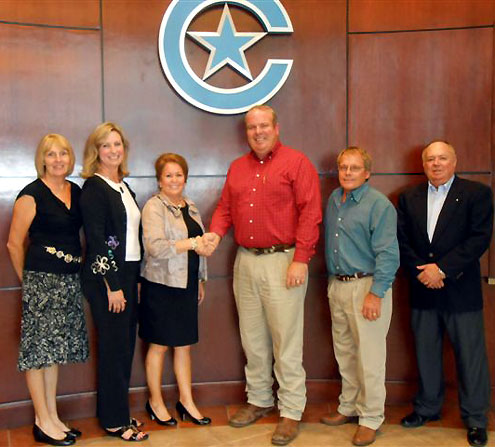 (L-R) Beckey Thompson, Member, CEDC Board of Directors; Robin Alexander, Vice President, CEDC Board of Directors; Bonnie Hunter, Executive Director, CEDC; Tim Foley, Manager and David Litteken, Vice President, Hope Concrete Company; Marc Clayton, Commerce City Manager