Front Page
Grayson College Visual Arts Department exhibit Oct. 25 to honor deceased pets
Oct 25, 2013
Please join the Grayson College Visual Arts Department on Friday, October 25, from 6:00 p.m. to 8:00 p.m. in the 2nd Floor Gallery located in the Fine Arts and Communication Center.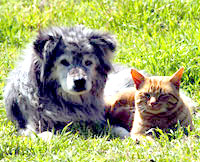 El Dia de los Muertos para las Mascotas Muertas Exhibition is a show featuring one of a kind art created in memory of our deceased dogs, cats, or any pet. It is said that we die three times… once when we physically expire, again when we are buried or cremated, and the last time when our name is forgotten.
Dia de los Muertos, also known as Day of the Dead, is not a macabre, eerie, or sad day but a joyous time when the remembrance of family and friends and the continuity of life are celebrated. The Dias de los Muertos skeleton (calavera) represents the dead playfully mimicking the living and is not a morbid symbol at all. All Saints' Day is celebrated November 1 and All Souls' Day is remembered on November 2 not only pays tribute to the dead but brings focus to the other phases of the life cycle: fruitfulness and life for the future.
Help us in celebrating the lives of our pets and in perpetuating their memory for they were an important part of our family. The evening of the reception bring a photo or memento of your pet for placement on the ofrenda (altar). Please pass the word.
For more information on the exhibit or other events please contact Steve O. Black at (903) 463-8662 or blackst@grayson.edu