Front Page
Another playhouse to be raffled arrives at Fannin County Courthouse
Oct 24, 2013
The Seahorse has docked on the northwest corner of the Bonham Square. Built and sponsored by Bill Pillars of Soper, Oklahoma, The Seahorse is still a work in progress because Bill has some more additions to make. Bill tells us The Seahorse comes apart into four pieces for ease of transporting to a new docking point.
The drawing for all the Playhouses will be December 7 on the Bonham Square just prior to the start of the annual Christmas Parade. Ticket prices are $3.00 each or two for $5.00 and may be purchased in Bonham at the Creative Arts Center, Bonham Family Drug, American Bank of Texas, the Bonham Chamber, Tax Assessor-Collectors Office, Lifetime Chiropractic, The Floyd Building and the Fannin County Family Crisis Center.
In Leonard, tickets may be purchased at Kwik Chek #8, Leonard Pharmacy, Furniture Gallery, Buchanan Insurance and the American Bank of Texas.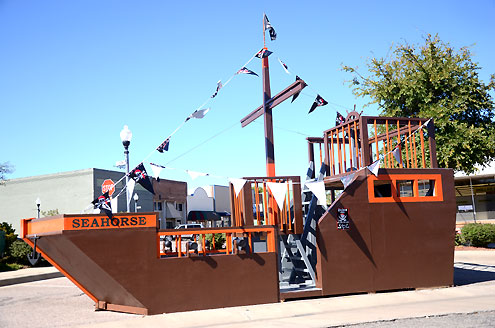 A special "Thank You" to Jeff Holm, owner of Texas Sign Werks in Trenton, Texas for the donation of our Playhouse signs noting who sponsored the Playhouse and where tickets are being sold.