Front Page
TCOG reports FY 2013 economic impact
Oct 22, 2013
Organization generated $24 million in Texoma region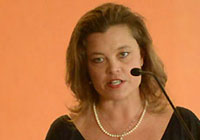 SHERMAN, OCT 21, 2013 – Dr. Susan Thomas, Executive Director of Texoma Council of Governments (TCOG) announced last Thursday night at the TCOG Governing Board that TCOG's total economic impact on the Texoma economy during fiscal year 2013 was around $24 million.

In her report to the TCOG Board Dr. Thomas pointed out, "When you compare the total economic impact in the region to the amount of dollars paid in membership dues, you'll find that for every $1 paid there is a $489 impact. That is an incredible value for local jurisdictions who work with our organization."

The TCOG Economic Impact Report presented the results of an economic impact analysis estimating the annual impact Texoma Council of Governments (TCOG) had on the state and local economy during fiscal year 2013 (May 1,2012 – Apr 30,2013). TCOG's economic impact was calculated on the three-county region by looking at direct, indirect, and induced forms of impact, including workers' salaries, volunteer hours, expenditures to local vendors, and supported tax base and tax revenues.

In FY 2013, TCOG supported $16.33 million in economic output or revenues for businesses and employed a total of 60 direct jobs and an additional 59 indirect and induced jobs in the region. In total, TCOG supported 119 full time employees.

"What I find impressive about this report is that 145,000 volunteer hours were served in the region last year alone, primarily by Senior Corps Program volunteers," Dr. Thomas stated. "That equates to 70 full-time equivalent employees working 40 hours a week in volunteer hours to provide meaningful service across our region."

The Texoma Council of Governments is a voluntary association of the local governments in Cooke, Fannin, and Grayson Counties. Established in 1968, the Texoma Council of Governments promotes economy and efficiency in the coordinated planning and development of the tri-county region through its community and economic development activities. Either directly, or through contractors, the Council provides housing, utility assistance, and weatherization services for low-income citizens in the region and assists the elderly through a variety of Area Agency on Aging programs. The Council also facilitates the delivery of grant funding for homeland security and criminal justice.