Lifestyles
Park Place Lexus Plano opens
Nov 14, 2013
After 15 expansions over the past 22 years at its Preston Road location, Park Place Lexus Plano recently opened a new, state-of-the-art dealership at Spring Creek Parkway and the Dallas North Tollway. In celebration, Park Place recently hosted more than 3,000 guests at a launch party.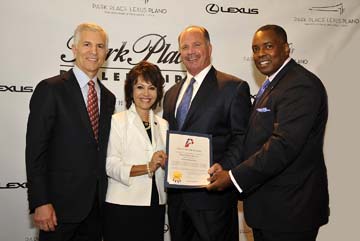 Park Place Dealerships founder & chairman Ken Schnitzer; Plano Mayor Pro Tem Lissa Smith; Park Place Lexus president Jordan Case; Plano Mayor Henry LaRosiliere



Park Place Dealerships' founder and chairman Ken Schnitzer presented a $25,000 check to Children's Medical Center Foundation president Dr. Kern Wildenthal. Plano Mayor Harry LaRosiliere and the entire Plano City Council attended and presented Schnitzer and Park Place Lexus president and managing partner Jordan Case with a certificate honoring their commitment to the city. Then Jeff Bracken, group vice president and general manager of Lexus USA, presented Schnitzer with a ceremonial katana sword.

"We spent countless hours with the design team selecting materials to create a comfortable environment," said Jordan Case, President and Managing Partner of Park Place Lexus. "Everything we chose, we designed with the client in mind such as the six-foot marble bar in the beverage center, and the furniture in the sales offices. We continually asked ourselves how these choices would impact the client experience."

Every aspect of the 170,000 square foot facility, including the expansive 109 bay Lexus garage, was utilized at the Launch Party with stations offering refreshments for the body and soul. Nine restaurants, including Cantina Laredo, Dallas Fish Market, III Forks, Kent Rathbun Concepts, Roy's Hawaiian Fusion Cuisine, Savour Kitchen, Silver Fox, Whiskey Cake and Wild Salsa, offered everything from fresh sushi and salad to fajitas and gouda mac & cheese. Outside, 3 Stacks Restaurant brought their Big Rig smoker offering delicious barbecue.

Live entertainment ranged from the soulful stylings of the Jennifer Baldwin Band to the 15-piece high-energy party rock of Emerald City and DJ Andre spinning tunes in the Lexus After Lounge.

Inside the Dapper Delivery Den, guests enjoyed hand-rolled cigars paired with scotch tastings. The ladies were pampered in the Watter's Creek Luxe Lounge with delicacies from Bonnie Ruth's and a fashion show from Anthropologie, White House Black Market and Ann Taylor.

Other sponsors included Andrews Distributing, Celebrity Cruises Captain's Club, Coca-Cola, Constellation Wines, Hendricks Gin, Hudson Whiskey, Milagro Tequila, Monkey Shoulder, Reyka Vodka, and Sailor Jerry Rum.

Guests toured the dealership throughout the night admiring the artwork, furnishings, and comforts throughout.

Park Place Lexus Plano opened in 1991 with 36 employees and today the dealership employs more than 320 people. Park Place Dealerships has been widely recognized as one of the top companies for which to work in North Texas. In 2005, Park Place Lexus was the recipient of the Malcolm Baldrige National Quality Award, the nation's highest award presented to a business by the President of the United States.

Ken Schnitzer founded Park Place Dealerships in 1987 with a single Mercedes-Benz dealership in Dallas. Today, Park Place Dealerships operates 15 full-service dealerships representing Bentley, Jaguar, Lexus, Lotus, Maserati, McLaren, Mercedes-Benz, Porsche, Infiniti, Volvo and Rolls-Royce. In addition, the dealership group includes two Park Place Bodywerks locations and has a third store under construction. For more information about Park Place Dealerships, visit www.parkplace.com.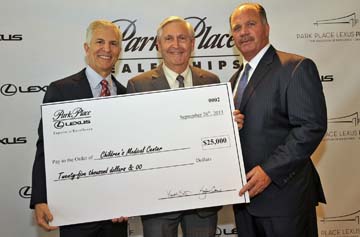 Park Place Dealerships founder & chairman Ken Schnitzer presents a $25,000 donation to Children's Medical Center Foundation president Dr. Kern Wildenthal (center); Park Place Lexus president Jordan Case (right)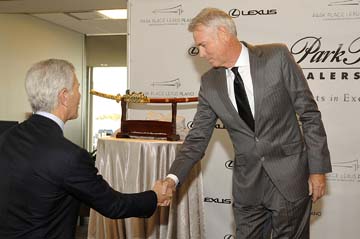 Jeff Bracken (right), Lexus USA Group Vice President & General Manager, presents a ceremonial katana sword to Park Place Dealerships founder & chairman Ken Schnitzer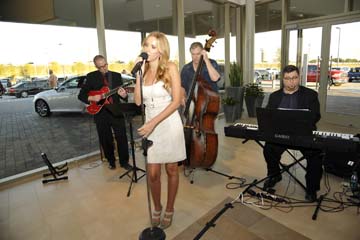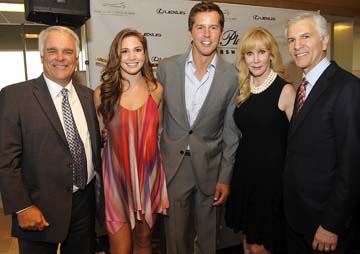 Dallas Stars president Jim Lites; Allison & Mike Modano; Lisa & Ken Schnitzer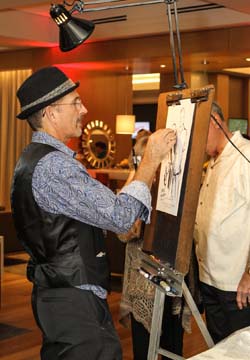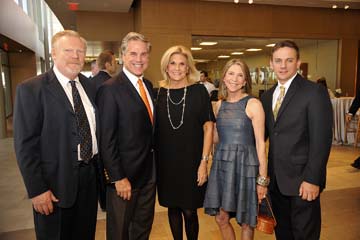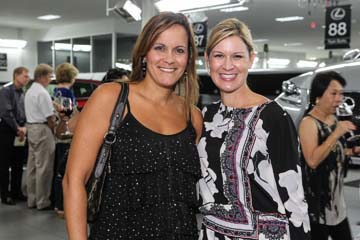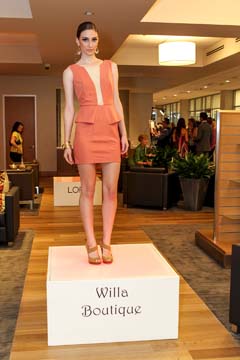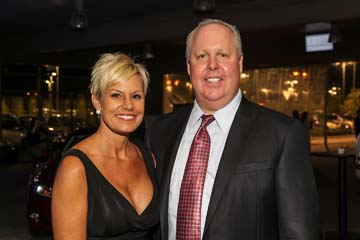 Amie & Chris Brunner, General Manager, Park Place Lexus Plano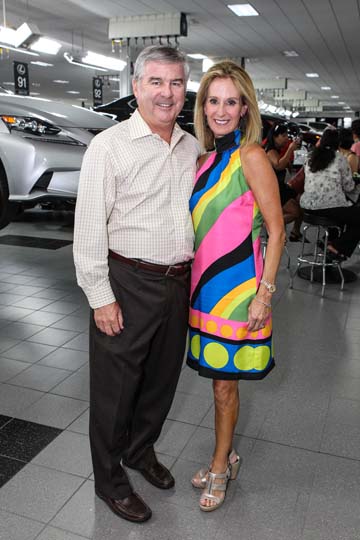 Ed & Linda Kelly (Lance Armstrong's mother)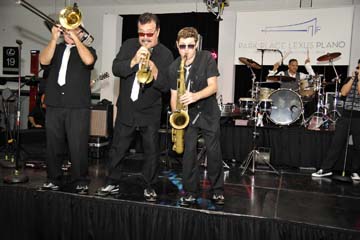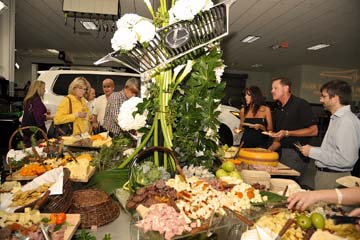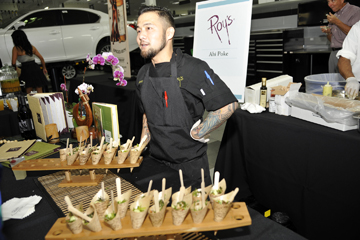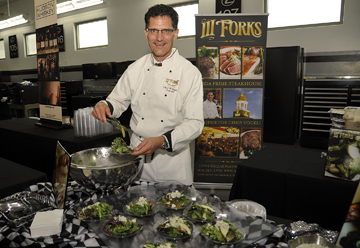 III Forks proprietor Chris Vogeli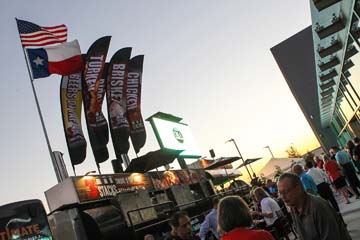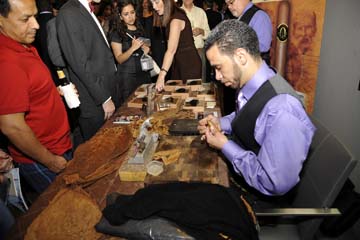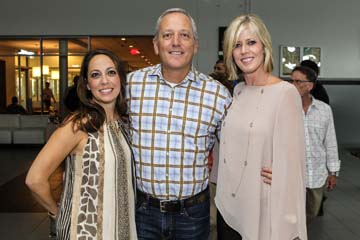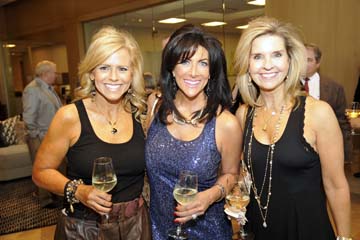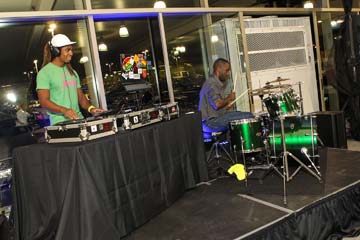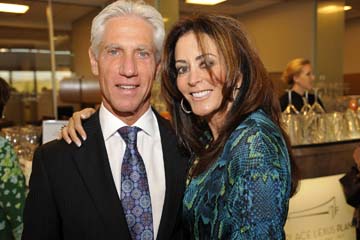 Park Place Motorcars president Neil Grossman and wife Cyndi