Lifestyles
Fannin 4-H Fall Fun Night Oct. 29
Oct 28, 2013
Are you looking for some fabulous family fun? A place where you can meet new people, hang out with your friends, learn about the topics you really enjoy, get involved with your community, and develop your leadership skills at the same time? Then, Fannin County 4-H is definitely the place for you.
Tuesday, October 29, 2013 from 5:30 p.m. - 7:30 p.m. Fannin County 4-H is hosting a Fall Fun Night at the NEW location, Darrell Hall Education Center at 2505 N. Center Street in Bonham (Hwy 78 N.) The inside of the new facility will be open and displays presenting many of Fannin County 4-H's best liked projects, such as Horse Quiz Bowl, Shotgun Shooting Sports, Public Speaking, Robotics, Photography, Consumer Decision Making, Sign Language, Goat, Lamb, and Vet Science. Project Leaders and youth leaders will be present at all the project displays to answer your questions and to give you all the information about each of their respective projects.
A bounce house and fall carnival games will be set up outside weather permitting. Door prizes will be given away throughout the night.
Free hotdogs, desserts and drinks will be provided. 4-H officers, project leaders, and the County Extension Agent will be at the Fall Fun Night the entire evening to answer any and all of your questions concerning Fannin County 4-H.
So come on out and enjoy the fun (and free food). I think you'll have a great time. There's something for everyone, from food to games to brand new friends. I'll see you there!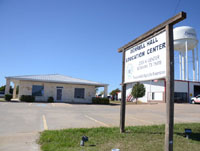 [Fannin County 4-H is a part of the Texas 4-H and Youth Development Program, and is open to all youth residing in Fannin County who have reached 8(eight) years of age and have entered the third grade and have not reached their 19th birthday before September 1st of the current 4-H year. The Texas 4-H and Youth Development Program is open to anyone regardless of socioeconomic level, race, color, sex, national origin, or disability]