Entertainment
Wine Stroll and Gala in downtown Sherman Oct. 26
Oct 26, 2013
Downtown Sherman Preservation & Revitalization brings you another Wine Stroll and Gala around our Downtown Sherman square, but this time you get to stroll in costume. Or not! Either way it is an event you do not want to miss. We have live music, upscale food, kids' activities. Truly something fun for everyone!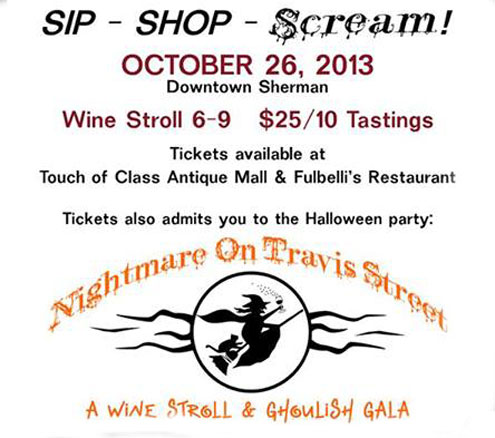 DATE: Saturday, October 26
TIME of WINE STROLL: 6-9 PM
TIME of GHOULISH GALA: 6-11 PM
Wine Stroll
For $25 you will get to taste 10 different wines from among 7 wineries. Host businesses are offering gourmet hors d'oeuvres to help showcase the wines for your added enjoyment.
Wine Stops
A Touch of Class Antique Mall
Little Italy Ristorante
Daresa Sofey Home Design Studio
Knight Furniture
Painting With a Twist
Risk Shoes and Shoe Repair
Sandi's Boutique
The Shops on Travis
Women's Gift Exchange
Wineries
Brushy Creek Vineyards, Alvord
Homestead Winery, Denison
Lanson Winery, McKinney
Lenoir-Sage Vineyards, Bells
Paris Vineyards, Paris
Sunset Winery, Burleson
Weinhof Winery, Muenster
Tickets
GALA tickets ($5 for adults and free for kids 16 and under) may be purchased at the event. Includes live music, food vendors, entertainment.

WINE STROLL tickets ($25 and includes admission to the Gala) may be purchased online: http://www.DowntownSherman.com/gala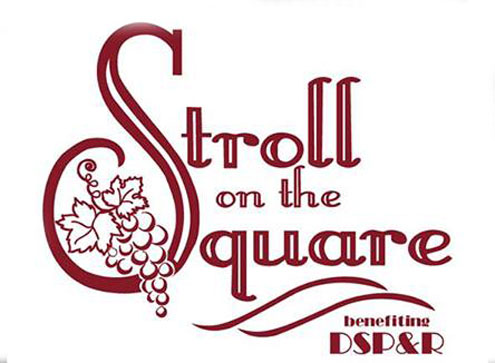 Tickets are also available at the following locations:
A Touch of Class Antique Mall
Little Italy Ristorante
Fulbelli's Restaurant
Sandi's Boutique
Texoma Neon
The Shops on Travis

For the KIDS!

Lil Katy
ALL ABOARD for a ride around Grayson County Courthouse on Lil Katy, coming from the Red River Railroad Museum in Denison!

Cookie Decorating
Nothing tastes better than a cookie you decorate yourself--unless that cookie is from Mom's Bakery--which ours are!

Handprint Painting
Painting With A Twist is working their magic again with delightful paintings which begin with a child's handprint. Do not miss out!

Candy..Frisbees..Candy...Frisbees
Look up when you hear a scream from the balcony of Fulbelli's so you can catch a treat thrown by the HotFM107.3 DJ's who are broadcasting our event live.

Costume Contest
Calling all ADULTS and KIDS!
Halloween would not be Halloween with costumes, so wear your best. The contest is at 7:45 on the stage facing Kelly Square.

Cannonball Cloggers
That's right! The Cannonball Cloggers will perform on the courthouse steps at 7:30. And do not be frightened when you see their zombie costumes and makeup!!

Face Painting
Eight Austin College students will toil tirelessly transforming the kids' squeaky-clean faces into ...well ...you'll have to wait and see!

Bounce House
Thanks to GAYLON and GARRETT RIDDLES for this fun activity!

Photo Ops
Please bring your cameras for some really fun photo opportunities! Thanks to Nancy Sims and Friends (Cathy Maddox, Linda Walker, Lisa Mitchell, and Evan Martin) for making this possible!

And More...
Balloon Animal Fun, Stilt Walkers, Sand Art...

For the ADULTS!

903 BREWERS
The 903 Brewers will be on hand to sell draft ales. If you have haven't had a chance to visit Sherman's best micro-brewery to taste their fine ales, this is your chance.

BANDS
5:45 - 7:30 PM enjoy the tunes from our 4 opening bands which will be set up around the courthouse and inside Kelly Square.

BAD HAT
Austin College professors and alums sing an eclectic mix of covers and original tunes from jazz to country.

THE MILLERIXX
Austin College students perform a mixture of rock and country influenced by folk.

CORBATTA
Alternative rock with a touch of "happy punk" sung in English and Spanish.

JAMES TABOR
Austin College student James Tabor and Friends performing folk and old country classics like Hank Williams' tunes.

8:00 - 11:00 PM get ready to dance to the fabulous...
ROCKY and THE BULLWINKLES! That's right! We are bringing you one of the best dance bands in Texas.
And that's no joke!

UPSCALE STREET FOOD
A word to the wise--COME HUNGRY! The street food is upscale and delicious! Our vendors for the event are...
Blue Door Cafe
Daddy Rex BBQ
Fulbelli's Restaurant
Little Italy Ristorante
Pico de Gallo

SHOPPING
All the stores Downtown will be open late for your shopping convenience.

Sponsors
Our sincere thanks to our generous sponsors for making this event possible:

American Bank of Texas
John G, Papaila, MD
Knight Furniture
Utter Financial Group of Wells Fargo Advisors
A Touch of Class Antique Mall
A-1 Little John, Inc.
Bechtel
Bella Fontana Spa
Binswanger Glass
Blue Door Cafe
Bob Utter Ford
C&N Windows
Culligan Water
Daresa Sofey Home Design Studio
David Baca Studios
Douglass Distributing
Fast Signs
Fulbelli's

Hin-C0 Printing
HotFM 107
Jenel McGrath, REALTORS
KXII
Landmark Bank
Little Italy Ristorante
Markl & Sons
Mel Wittmaack, CPA
North Texas Gold Cars
Painting With a Twist
Quin Studio
Red Letter Media Group
Risk Shoes
Sandi's Boutique
Sartin & Associates, Inc.
Star Auto Body
Stacy Rake Agency
Starkey Mortgage
Texoma Financial Services
Texoma Neon
The Shops on Travis
Women's Gift Exchange