Entertainment
Guy Forsyth to perform in Paris Oct. 27
Oct 27, 2013
Guy Forsyth will make his Paris debut on October 27 at That Guy's Coffee Listening Room.
From Austin, Texas, Forsyth has long enjoyed praise for his dazzling live shows. His songs incorporate a unique mixture of styles and his sound is at once polished, raw, and compelling.
Dubbed "an American roots musician of the highest order" by Texas Music magazine, the singer songwriter is also a guitarist, harmonica player and bandleader – as well as an actor, martial arts devotee and master of the rare art of playing the musical saw. Whenever he steps onstage Forsyth's goal is to create magic.
"Music is at the core of every religion in the world," notes Guy, "because it allows us to transcend."
Guy lived a nomadic youth as his family moved through such places as Colorado, New York, Connecticut and California before landing in the Midwest. As a result, the radio and his parents' record collection became his closest companions. At 16 he started playing harmonica. Shortly thereafter he heard a very distinct and overwhelming sound on Kansas City radio that changed his life; it was Robert Johnson.
"I was struck by lightning," Forsyth said of his introduction to the blues. After that, he borrowed a guitar (and learned to tune it with his feet from a friend who had lost both his arms in an accident) and struck out to learn how to play the blues.
Forsyth eventually moved to Austin and started out playing for spare change on Sixth Street. Then he brought his skills as a stellar live performer to help found (and eventually drive to international acclaim) the theatrical acoustic group, The Asylum Street Spankers. Touring and recording 5 albums with the Spankers added to a wealth of earlier unique experiences in his life – working as a stuntman in renaissance shows, busking on the streets of New Orleans and playing on a mountain top in Nepal –which provided him the musical fodder that emerges in Forsyth's music.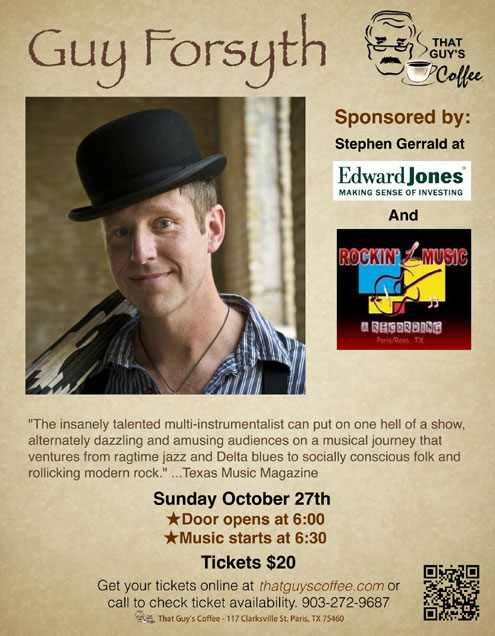 Guy was awarded an Austin Music Award for Best Male Vocalist in 2005, as well as numerous other AMA's over the years in categories such as Best Blues and Best Miscellaneous Instrument Player (singing saw), among others. Guy's latest album, Freedom to Fail, is his seventh solo work and was released in the summer of 2012.
In the past year, Forsyth has significantly stepped up his touring to reach fans in the Southwest, Southeast, East Coast, and Midwest United States, as well as continuing to play in Europe. Guy has been featured in a number of large festivals recently, including the Austin City Limits Music Festival (Austin), High Sierra Music Festival (Northern California), Los Alamos Festival (New Mexico), BBQ & Blues Festival (New York), Tonder Festival (Denmark), and Rhythm 'n' Blues Festival (Belgium).
Forsyth has opened for and shared the stage with musicians such as BB King, Ray Charles, Lucinda Williams, Jimmy Vaughn, Dr. John, and Robert Cray, among many others.
Tickets to the concert are $20 and are available online at www.thatguyscoffee.com. Doors open at 6:00 p.m. and music begins at 6:30. For information about the venue or concert, call 903-272-9663.