Local News
Fannin County becomes debt free
Oct 21, 2013
Bonham -- At a time when a national debate rages about how to curb spending, one North Texas county has actually done something about it.
Fannin County cut the check this week that will pay off the county's General Obligation Bond five years early and make Fannin County debt free.
In 1998, General Obligation Bonds were issued to construct the county jail on County Road 4200 south of Bonham. The bonds were to be paid off in 2018 - a 20-year term. By controlling departmental spending and making conservative fiscal decisions, Fannin County cut a check for $1,103,782.82 to pay off the debt five years early, resulting in a savings to local taxpayers of $209,042 that would have been spent of interest over the remainder of the 20-year term.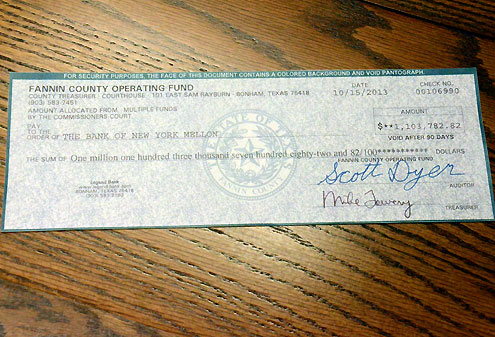 Fannin County was set to pay between $314,000 and $323,000 annually through 2018 as debt service on the General Obligation Bonds.
When Fannin County Judge Spanky Carter took office three years ago, his two primary fiscal goals were to get the county out of debt and to lease the jail on County Road 4200 that had been vacant and was costing taxpayers approximately $20,000 annually to maintain. The county has been leasing that facility for approximately $200,000 a year and as of this week, the county is officially debt free.
"I think that's what the people of Fannin County want," said Judge Carter. "I really want to credit Fannin County Commissioners Court. When it comes to finances, we are all on the same page. Three years ago, we began talking about being debt free. This is the fruit of our labor."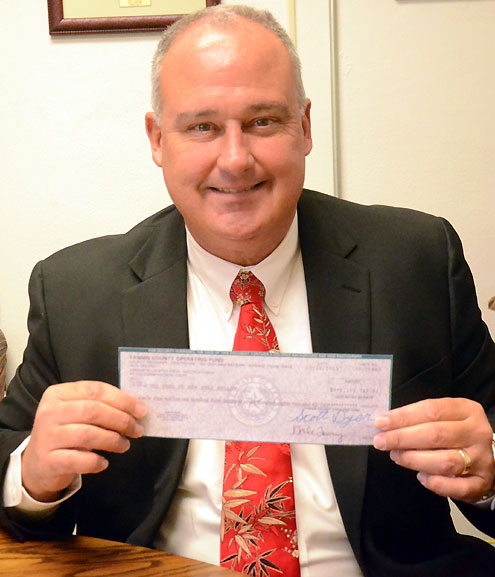 Fannin County Judge Spanky Carter holds the check for slightly more that $1.1 million that will pay off the General Obligation Bond five years early.
Judge Carter was also quick to credit Fannin County Auditor Scott Dyer for working in concert with commissioners court.
"Scott is a big part of this," remarked Carter.
For the past three years, Fannin County Commissioners Court has been able to lower the tax rate without cutting services.
In addition, the county bought and renovated a Fannin County AgriLife Extension building, the Derrell Hall Education Center, for approximately $325,000. Fannin County now has a modern Extension Office to meet the needs of numerous organizations and individuals.