Front Page
'Streetcars in Denton: The Denton Traction Company' lecture Oct. 17
Oct 17, 2013
October 2013 Lecture Thursday, Oct. 17, 2013 12:00 Noon– 1:00 p.m.
"Streetcars in Denton: The Denton Traction Company"
Presented by: Dr. Terrance Pohlen
Transportation frequently has a major effect on the social and economic development of an area. Access to rail, and later highways, greatly affected the growth and development of Denton, Texas. On a much smaller scale, the emergence of a streetcar line influenced the day-to-day lifestyle of individuals living in Denton prior to the First World War.

The Denton Traction Company began as a streetcar line to develop the Highland Park area (now known as the Denia Neighborhood). Highland Park was a popular picnicking spot in the early 1900s. It was located on the hill where Apogee Stadium is now. The trolley ended at Highland Park and the street cars were housed in barns there over night. It was the site of the first aeroplane flight in Denton. It clearly was on the outskirts of town but still remained a very popular spot in the early twentieth century. The streetcar line initially consisted of a six-mile line connecting Highland Park, the North Texas Normal College, the courthouse square, and the then existing railroad station located on East Hickory Street.

The Denton Traction Company provided an inexpensive form of transportation and supported much of the social life in Denton during its operations from February 1908 until January 1918.
Several factors led to the demise of the Denton Traction Company as 1918 began. The tracks were removed in 1918, and the streetcars and track were later sold for scrap.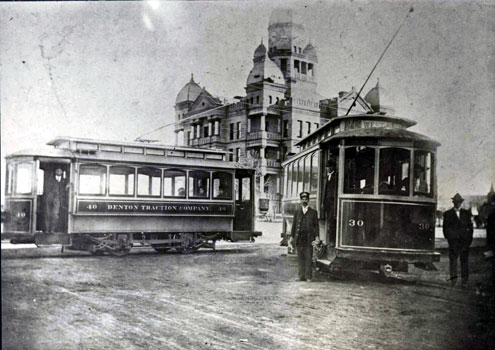 Join us in the Courthouse-on-the-Square Commissioners Courtroom as Terry Pohlen enlightens you regarding the development of the Streetcar and the rise and fall of the Denton Traction Company.

Terrance L. Pohlen, PhD, CTL, joined the UNT faculty in 2003 as an associate professor of logistics and supply chain management and serves as the Director of the Center for Logistics Education and Research. Dr. Pohlen served in the United States Air Force as a logistics officer. Dr. Pohlen received his doctorate from The Ohio State University. Dr. Pohlen. He currently serves on the Board of Directors for the American Society of Transportation and Logistics and the Alliance Texas Foreign Trade Zone. Dr. Pohlen recently completed a joint study, 2013 Texas Trucking Trends, with the Texas Transportation Alliance.

All Courthouse Museum exhibits and lectures are free and open to the public. The courthouse has handicapped parking and accessibility through the north entrance. The Courthouse-on-the-Square Museum is located in the historic Denton County Courthouse at 110 W. Hickory in Denton, TX.