Front Page
Grayson County Health Clinic hosts ribbon cutting
Oct 24, 2013
Sherman -- When it comes to providing health care for the community, Sherman and Denison, two cities famous for their annual Battle of the Ax gridiron rivalry, seem to have buried the hatchet.
The longstanding rivalry between Sherman and Denison may very well dissolve into a health care partnership that becomes a pattern for cities across the nation.
Years before the health care debate was elevated to the national stage, Grayson County Judge Drue Bynum was already contemplating how to engage the uninsured and underinsured in the health care system and preventative health care in order to alleviate the unrealistic demands placed on local emergency room personnel and facilities.
Eight years of deliberation between Judge Bynum and Grayson County officials, representatives of Texoma Health Foundation and Wilson N. Jones Community Foundation, plus the valuable resources and expertise of Texoma Medical Center in Denison and Texas Health Presbyterian Hospital-WNJ in Sherman have produced one of the first Medicaid 1115 Waiver projects in North Texas, Grayson County Health Clinic.
The clinic, located at 1111 Gallagher Drive Sherman, Texas, opened August 31, 2013 with a staff that includes Nancy Davis, FNP; Shawna O'Donley, PA; and Medical Director Jimmy Tarpley, MD. Appointments are preferred; call Grayson County Health Clinic at 903-771-2846 to schedule an appointment. Clinic hours are 8:00 a.m. - 5:00 p.m. Monday through Friday. The clinic is closed 12:00 p.m. - 1:00 p.m.
Medicaid 1115 Waiver projects allow the state to expand Medicaid managed care while preserving hospital funding, provide incentive payments for health care improvements and direct more funding to hospitals that serve large numbers of uninsured patients.
"Welcome to a truly historic day," Judge Bynum said as he welcomed the crowd to a ribbon cutting and open house Wednesday, October 23, 2013 at Grayson County Health Clinic, a clinic that is now the primary care medical home for Grayson County indigent health recipients that have previously received their medical care from various primary care providers and clinics. Uninsured patients will be seen on a sliding fee scale. The sliding fee scale will be determined based on the current year's Federal Poverty Level.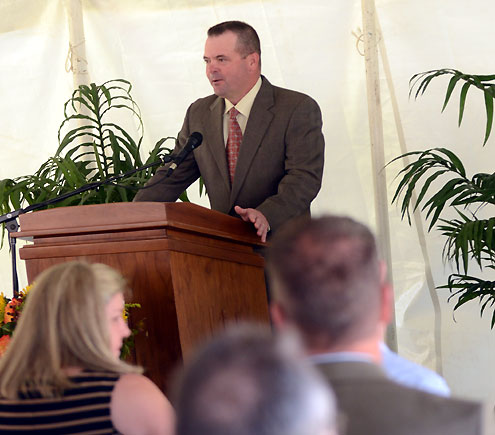 Drue Bynum
"I think we need to resolve the emergency room dilemma, and a start to solve the emergency room problem is to get uninsured and underinsured residents the health care they need," stated Bynum.
Vance Reynolds, CEO of Texas Health-WNJ was quick to credit Bynum for the advent of Grayson County Health Clinic.
"This would not have happened without his leadership," remarked Reynolds.
And to State Representative Larry Phillips, Reynolds said, "Thank you for all your support in this. We both view Sherman-Denison as 'our communities.'"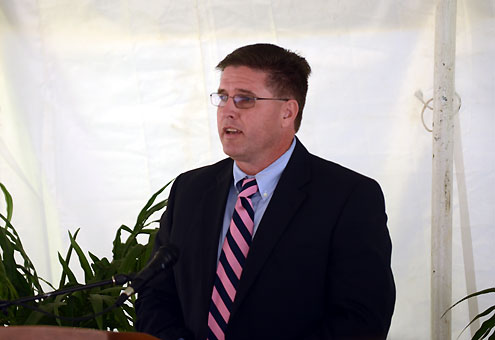 Vance Reynolds
Reynolds noted the important roles Texoma Health Foundation and Wilson N. Jones Community Foundation played in the formation of the clinic.
"It's unusual to find two foundations that truly support the health care needs of a community," observed Reynolds, "and that speaks volumes about the leadership in both foundations."
Ronald Seal, CEO of Texoma Medical Center, echoed Reynolds sentiments regarding Judge Bynum.
"I commend him for his vision," said Seal. "I am so proud to see communities coming together with a common view. By this clinic being here, it will help both hospitals meet the needs of regional health care. This is the right thing for the community, county and hospitals, but, more importantly, it's the right thing for the residents of this area. We will become stronger. We will expand. You can count on two hospitals to be here to take care of our people."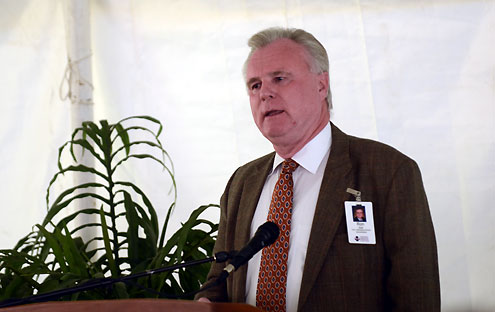 Ronald Seal
Pete Kloppers, chair of Wilson N. Jones Foundation, told the two primary reasons why WNJ Foundation wanted to participate in this project.
"First, it fits our mission statement and, second, it unites the community," explained Klopper, who described himself as someone who grew up in Denison and then grew old in Sherman because he married a Sherman girl and lost that argument.
Klopper said that proceeds from the sale four years ago of Wilson N. Jones Hospital are to be used exclusively to support indigent health care.
A special dedication was also held to unveil the portrait of Dr. and Mrs. Ray Stephens. Dr. Stephens was a longtime proponent of proper indigent health care. His son, Dr. John Stephens, remembered his father as a peacemaker and a man who preferred to work quietly behind the scenes.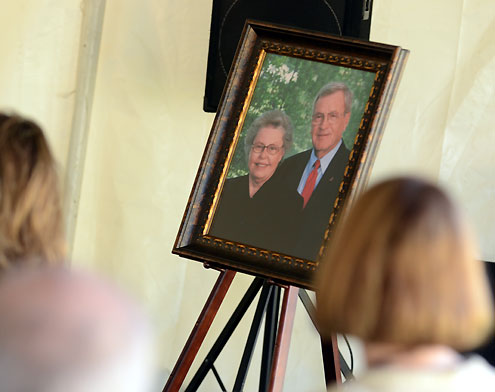 Portrait of Dr. and Mrs. Ray Stephens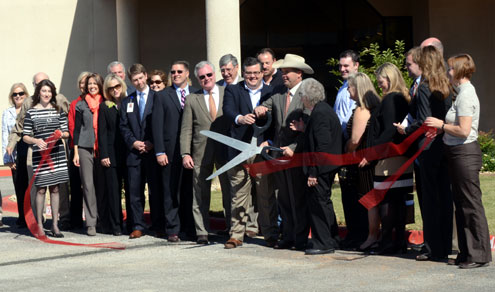 Ribbon cutting for Grayson County Health Clinic
Should I go to the ER or to Grayson County Health Clinic?
In a critical situation, immediately dial 911.
Visit the Emergency Room...
Chest pain

Active bleeding

Burns

Shortness of breath

Irregular heartbeats

Seizure

Head injuries with a loss of consciousness

Severe allergic reaction
Visit Grayson County Health Clinic...
Sore throat, earache, cold or flu symptoms

A child's fever (except infants)

Cough, sinus, or respiratory infection

Sprain or strain

Small cuts

Back pain

Migraine

Pink eye

Rash

Urinary tract infections

Minor burns
According to Texas Health and Human Services Commission, the purpose of the 1115 Healthcare Transformation waiver, supplemental payment funding, managed care savings, and negotiated funding will go into two statewide pools now worth $29 billion over five years: an uncompensated care (UC) pool to reimburse for uncompensated care costs and a Delivery System Reform Incentive Payment (DSRIP) pool to incentivize hospitals and other providers to transform their service delivery practices to improve quality, health status, patient experience, coordination, and cost-effectiveness.