Local News
'Personal and Home Safety' topic at Fannin Partners in Education meeting Oct. 23
Oct 23, 2013
"Personal and Home Safety" will be the topic of the next F-PIE presentation to be held on Wednesday, October 23 at 2:00pm at the TEAM Center, 806 West 16th Street in Bonham. Bonham Police Chief Mike Bankston will be the featured speaker. Chief Bankston will discuss personal safety issues in your home, in your vehicle, while you travel, and while you shop. He will provide valuable information and tips on staying safe in these various environments.
Chief Bankston will also provide information on popular scams that occur through the mail, on the phone, and over the internet. He will make us aware of what to look for and how to avoid these scams.
This event is free and open to the public. Complimentary pie from Cappy's Cafe will be served.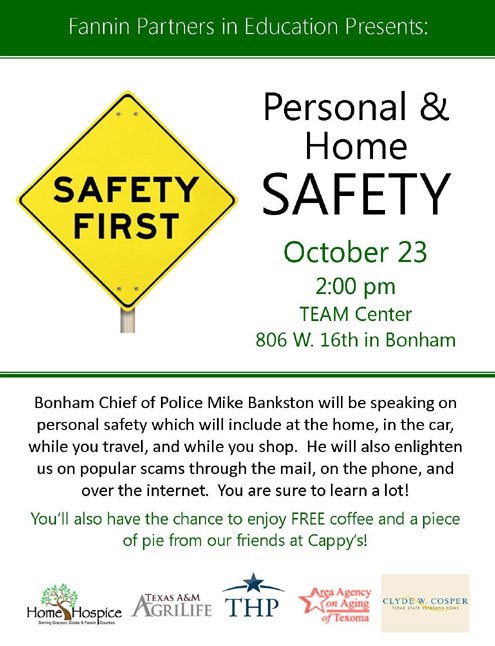 The presentation is brought to you by F-PIE (Fannin Partners in Education), which is a cooperative effort of local agencies including Home Hospice of Grayson, Cooke and Fannin Counties, Area Agency on Aging (TCOG), Clyde W. Cosper (Texas State Veterans Home), AgriLife Extension office (Texas A&M System) and Texoma Housing Partners (TCOG). On the last Wednesday of each month F-PIE hosts educational programs that enrich the mind and entertaining programs that tickle the funny bone. These programs are held at the TEAM Center with free pie and coffee served at each event.
Make plans now to attend this informative presentation and get the information you need to ensure you and your family's safety, as well as learning how to avoid being scammed.