Lifestyles
Walking through history at Willow Wild Cemetery Oct. 19
Oct 19, 2013
Walk through history at Willow Wild Cemetery with the staff from the Sam Rayburn House Museum during the annual cemetery walking tour. This year the museum is offering the tour on two dates, Saturday, October 19 and Saturday, October 26.
The tour will visit the graves of notable historical figures from Bonham and Fannin County. A few of those featured on the tour include Tom Bean, Smith Lipscomb, Sam Rayburn and Dr. Tom Spies.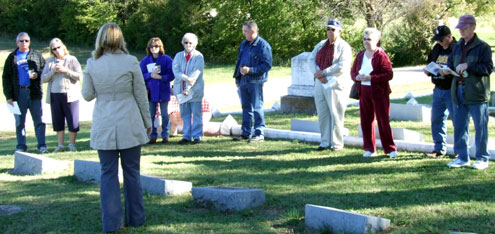 photo from the 2010 Cemetery Walking Tour
Willow Wild Cemetery was established in 1878. The land where the cemetery sits was initially used as supply headquarters during the Civil War. Following the end of the war, the land was part of the Hildinger farm. Early Bonham settler John P. Simpson bought the land for use as a cemetery and deeded it to the Masonic Lodge. The first burial in the cemetery was Fanny Glover Duncan. Her husband, James A. Duncan, was active in the Masonic Lodge and assisted in the founding of the cemetery.
The tours begin at 10 a.m. near the entrance gates to Willow Wild Cemetery, next to Sam Rayburnís grave. The museum will provide refreshments. The tour is free.
The Sam Rayburn House Museum tells the real story of Sam Rayburn, one of the most powerful and influential politicians of the 20th century, in his authentic 1916 home. Preserved as a period time capsule, the two-story home contains all original Rayburn furnishings.
The Sam Rayburn House Museum is one of 20 historic attractions operated by the Texas Historical Commission. For more information visit www.visitsamrayburnhouse.com.