Front Page
Bonham Fire Department hosts grand re-opening of Station 2
Oct 15, 2013
Bonham -- On Monday, October 14, Bonham Fire Department welcomed city officials and area residents to the grand re-opening of Station 2, City of Bonham's downtown fire station.
Construction of this facility began in 1954 and the first call made was in response to a car fire on May 5, 1955.
"There is a lot of history here," remarked Bonham Fire Chief Brad Nichols
Fast forward 58 years and much has changed for firefighters. To begin with, fire trucks have gotten bigger. The renovation was an opportunity to make larger bays and to add a bay on the west end of the structure.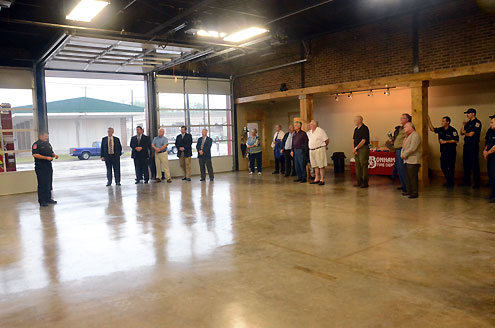 Bonham Fire Chief Brad Nichols welcomes city officials and area residents to the renovated fire station.
This construction job was done by workers who knew exactly what modifications were needed to transform a building that is almost six decades old into a modern fire station. Bonham firefighters did almost all the work, which resulted in major savings for local taxpayers.
With firefighters doing the work, the renovation cost $235,000.
"This is a $750,000 job that our firefighters, because of their commitment to Bonham, completed for less than $250,000," stated Bonham Mayor Roy Floyd. "You guys did a great job for very little money."
"I'd like to say thanks to our city council," said Chief Nichols, "and I can't say thank you enough to our firefighters who did most of the work. Every firefighter helped do this."
Chief Nichols singled out Lt. Jason Dudley for utilizing his considerable construction experience during the renovation.
"He took a lot of weight off my shoulders," said Nichols.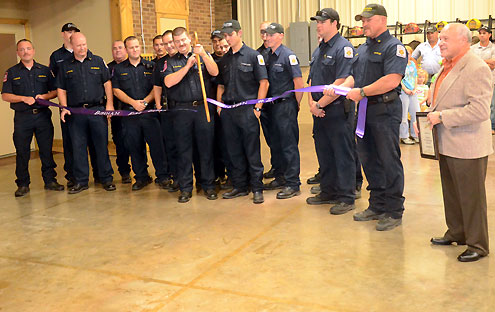 Chief Nichols cuts the ribbon to officially open the renovated fire station.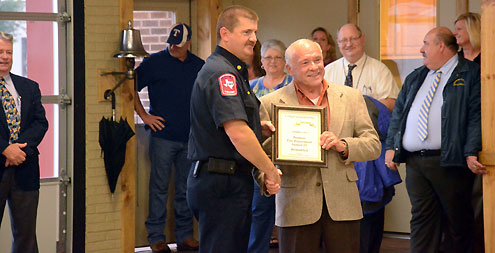 Bonham Fire Chief Brad Nichols receives a plaque from Bonham Area Chamber of Commerce President John Farris.