Columnists
Crow's-Feet Chronicles: Meet the big shots
Oct 29, 2013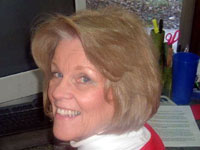 Second-time-around marriages for senior adults provide opportunities for clever anniversary celebrations. Nestor, a WWII vet, wanted to give his beautiful 86-year-old wife Esther something nice for their first wedding anniversary. So he decided to buy her a cell phone. Esther was excited and she loved it. Nestor explained all the different and varied features on the phone.

The next day Esther went shopping. Her phone rang and it was Nestor. "Hi ya, Esther." he said. "How do you like your new phone?'

Esther replied, "I just love it. It's so small and light and your voice is clear as a bell. But there's one feature that I really don't understand."

"What's that, Esther?" asked Nestor.

"How did you know that I was at Walmart?"

Lanny and I fall into that category, but we hate to. Fall, that is. Next week we'll celebrate our 4th anniversary. Lanny learned the hard way that the best way to remember a wedding anniversary is to forget it once.

After the first anniversary, I took it upon myself to make the first move and avoid future disappointments for forgotten anniversaries. After we had been married nearly two years, we traveled to Europe. While in Rome, I slipped out of the hotel while Lanny was napping and went shopping for an anniversary gift for him. The traditional gift idea for the second anniversary is cotton, so that was my secret mission. I bought a cool (and expensive!) cotton shirt. Fortunately, I was able to sneak it into the room and inside my travel bag before he awakened.

By the time our anniversary rolled around two weeks later, he was genuinely surprised that I had bought a shirt in Rome and kept it hidden from him. One day, a few weeks later, he decided to wash it. Moments after he stepped into the laundry room, he shouted, "What setting should I use on the washing machine?"

I answered, "It depends. What does it say on your shirt?"

He yelled back, "Ferrari."

The traditional gift idea for the 4th anniversary is fruit or flowers. We want our marriage to last longer than fruit or flowers, so we decided to buy something for each other this year that will last as long as we will. We didn't want to give each other a gift that would wilt, spoil, or break. And we don't need anything to dust, store, or wedge into the bookcase.

Can you guess what we decided to give each other? C'mon---think. It'll go with us to the assisted-living facility, the nursing home, and even "the green pastures." It's not jewelry that might have to be removed during surgery, and no, it's not a tattoo. Keep thinking.

It'll be good for us; yet, it's not a policy that requires monthly, quarterly, or yearly premiums. Give up? It'll bring a tear to your eye:

THE SHINGLES VACCINE! Happy Anniversary, Lanny.