Front Page
Kathryn's Texas Kitchen
Oct 13, 2013
Goulash is known as the national dish of Hungary and now stands as a symbol of the country.
The word came from gulyas which means herdsmen.
They were the ones who originally made this meat stew when they were working their livestock in the fields far from home. Goulash was usually made from chunks of beef, veal, pork or lamb, whatever the herdsmen had in their livestock that they could spare before getting them to market.
A flour roux for thickening was not included in the original dish.
Today there are many recipes for goulash but paprika remains the main seasoning. It seems funny to me that paprika is always associated with Hungary even though paprika came from the Americas thanks to the Spanish and Portugese. Now Hungarians grow their own sweet red bell peppers to make paprika.
Egg noodles are always served with goulash. Most Hungarian chefs consider tomatoes to be forbidden in goulash and use potatoes in it as the thickener.In an Americanized version, however, today's recipe includes both canned tomatoes and tomato paste.
Beef Goulash Soup
Recipe adapted from Food and Wine, November 2012
Ingredients
2 TB extra-virgin olive oil
1 large onion, finely chopped
2 garlic cloves, minced
¼ cup sweet Hungarian paprika
2 tsp caraway seeds, chopped
1 lb ground beef sirloin
2 TB tomato paste
1 14-oz can diced tomatoes
1 cup thinly sliced roasted red peppers
1 qt beef broth
1 cup water
Kosher salt and black pepper
2 cups wide egg noodles
Crème faiche or sour cream, for serving
Other Items Needed
Measuring cups and spoons
Cutting board
Chef's knife
Dutch oven or large pot with lid
Wooden spoon
Saucepan
Colander
Soup bowls for serving
Instructions
Heat the oil in the Dutch oven. Add the onion and garlic. Cook over moderate heat until softened. Add the paprika and caraway and cook for 1 minute. Add the beef and cook, breaking up the meat until no longer pink. Add the tomato paste, diced tomatoes with the juices, red peppers, broth and 1 cup of water. Season with salt and pepper and bring to a boil. Partially cover and simmer for 25 minutes.
Meanwhile, in the saucepan bring salted water to a boil. Cook the noodles until al dente. Drain.
Add the noodles to the soup and cook for 2 minutes. Ladle the soup into bowls and garnish.
Kathryn's Texas Kitchen travels from Hungary to serve a soup from south of our border.
Until next time…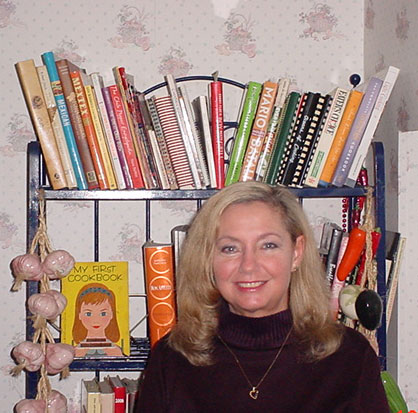 Bon appétit!