Entertainment
Grayson College presents Black Snow Oct. 17-19
Oct 19, 2013
Denison -- Grayson College Theatre Department presents the Russian satire, Black Snow, Oct. 17-19 in Cruce Stark Auditorium located in the Arts & Communications Center on the college's Main Campus in Denison. Written by Mikhail Bulgakov and adapted by Keith Reddin, the dark comedy features a cast of 13 actors who portray a total of 50 roles in this two-hour play.
Sophomore Ronald Arron Hogue plays Sergei Leontievich Maxudov, a writer who discovers his novel can be made into a play. Creating art in Russia, however, is no easy task. Black Snow takes the audience on a roller coaster ride as Sergei meets the eclectic world of the theatre. As he deals with producers, other writers, actors, box office managers, critics, and directors, he meets his match when he is introduced to the infamous director Ivan Vasilievich, portrayed by sophomore Blake Rice.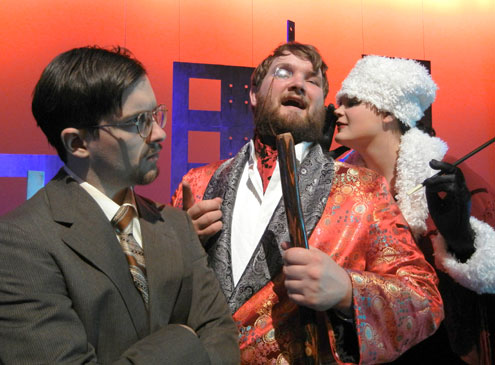 Students (L-R) Arron Hogue, Blake Rice and Madison Sisemore lead the cast of 13 in this PG-13 dark comedy performance.
Winner of the Joseph Jefferson Award for Best Play, Black Snow is an adaptation of Bulgakov's novel of the same name, which is an autobiographical journey of his dealings with The Moscow Art Theatre in the 1930s. Characters are based on real theatrical personalities such as Konstantin Stanislavsky and artists who worked with him. Stanislavsky was a director who created what is now known as method acting and created what he called "the system" to create honest characters on stage. He worked with managing director Vladimir Nemirovitch-Danchenko and together they created The Moscow Art Theatre, which still produces plays today.
"Black Snow is a satire that pokes fun at Stanislavsky by showing the extreme measures he would use with his company to create theatre," said Robin Robinson, GC professor and director of theatre. "The audience watches through Sergei's eyes how his original story is devastated and changed by these strange people known as artists."
In addition to Hogue and Rice, cast members include Skyler Alton, Nick Ellis, Brandon Langston, A.J. May, J.T. Medders, Gabe Parker, Ryan Ramirez, Madison Sisemore, Brandon Stockton, Claire Thompson and Alex Watkins. Crew members include Dustin Meadows, Jordan Moore, Taylor Ginger Roberts, Jasmine Shannon and Tommy Stowers.
Black Snow is rated PG due to language. There are one morning and two evening performances: Oct. 17 at 10 a.m., and at 7:30 p.m. on Oct. 18 and 19. Tickets are $3 or free with college ID. Reservations are not necessary.
Grayson College also has entered the production in the Kennedy Center American College Theatre Festival Oct. 24-26 in San Angelo, Texas. Students will compete with five other colleges in the festival hosted by Angelo State University. GC's performance is scheduled the morning of Oct. 25.
For reservations or more information about Black Snow, contact the GC Theatre Department at 903-463-8609 or theatre@grayson.edu .