Front Page
A fun day of farming activities at the Sam Rayburn House Museum
Oct 13, 2013
Bonham -- The rain didn't stop the good times at the Sam Rayburn House Museum during the 2013 Farming Heritage Day held on Saturday, September 28.
The Wylie Antique Machinery Society brought two tractors to the event. Their display included a 1949 Farmall Cub and a 1951 MT John Deere. Tractor City of Bonham also had a John Deere tractor on display.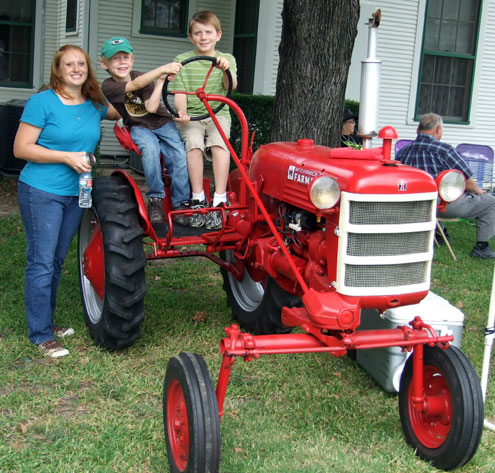 Visitors check out the 1949 Farmall Cub tractor on display from the Wylie Antique Machinery Society.
The event showcased many farm animals. Bonham FFA advisor Clint Minnick and student members Cole Carter and Cole Dudley brought two show heifers, a Simmental and a Simbrah. They also brought one market Boer goat. Elisha Silva brought a variety of show rabbits. Sam Rayburn and his family raised Rhode Island Red chickens on the farm. The museum displayed both Rhode Island Red chicks and grown chickens.
Jill Abair, a local fabric and textile artist, gave weaving demonstrations during the event. She wove on a large,frame triangle loom. Along with demonstrations in wool, visitors also were able to learn about cotton farming. The Agronomy Laboratory at Texas A&M-Commerce donated samples of raw cotton in various stages. The samples included cotton seed, unopened and green cotton bolls, opened cotton bolls (from which visitors could pick their own cotton) and cotton lint. Visitors planted the cotton seeds and took them home in peat pots.
The Fannin County Soil and Water Conservation District brought a soil and water erosion display. Soil and water conservation was a very important subject to Rayburn. Conservation was a topic that he promoted during his years in Congress and practiced on his own farm in Bonham.
The Rayburn home, built in 1916, did not have electricity until 1935. For those 19 years and even beyond that time, the family performed many chores which we take for granted today. Visitors experienced chores similar to those done by the Rayburn family. They washed laundry using a large tub filled with water, a scrub board, lye soap and clothes line. They also practiced grinding coffee using an antique coffee grinder. They made lemonade by juicing lemons on an antique reamer, churned homemade ice cream and made their own butter.
Visitors played horseshoes and croquet on the Rayburn house lawn. They enjoyed free, themed tours of the home. Along with all the fun activities and displays, visitors also enjoyed delicious frozen ice cream treats donated by Brookshire's.
If you missed out on the event, make plans to attend the annual Farming Heritage Day next year. We promise a good time!
The Sam Rayburn House Museum tells the real story of Sam Rayburn, one of the most powerful and influential politicians of the 20th century, in his authentic 1916 home. Preserved as a period time capsule, the two-story home contains all original Rayburn furnishings. The Sam Rayburn House Museum is one of 20 historic attractions operated by the Texas Historical Commission.
For more information visit www.SamRayburnHouse.com.