Lifestyles
Park Place Dealerships unveils 2014 Rolls-Royce Wraith
Nov 10, 2013
The 2014 Rolls-Royce Wraith, the most powerful and technologically advanced Rolls-Royce in history, stopped in Dallas recently during its 22 city U.S. tour. The $285,000 (base price) handcrafted fastback will go from 0 – 60 mph in 4.4 seconds. Of course, in addition to elegance and power, the luxurious land yacht features the exquisite craftsmanship and attention to detail for which Rolls-Royce has been known throughout its esteemed 109-year history.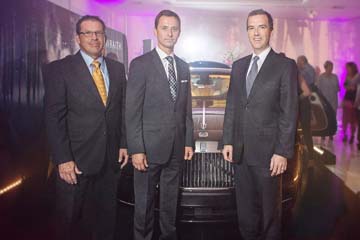 Tim Wood, Sales Manager, Rolls-Royce Motor Cars Dallas; Joe Wierda, General Manager-Southern Region, Rolls-Royce Motor Cars NA, LLC; Heath Strahan, General Manager, Park Place Premier Collection
More than 200 guests came for an exclusive look at the Wraith at 129 Leslie, Wendy Krispin's modern venue in the Design District.

G.H. Mumm provided celebratory sips of their Blanc de Blancs Champagne with Reyka Vodka offering red vesper martinis over handcut ice during the evening. Wendy Krispin's scrumptious appetizers were the ideal bites, followed by chocolate covered almonds and chocolate fudge brownie truffles from Chocolate Secrets. Kona coffee with vanilla bean ice cream was the perfect nightcap for the evening.

Heath Strayhan, general manager of the Park Place Premier Collection, touted the Wraith's storied heritage before unveiling the sleek new four-seat coupé to the delight of the guests.

Coach doors opened wide to reveal the sumptuous leather interior, complemented by rich wood panels. The interior ambiance was enhanced by the Starlight Headliner, a Bespoke feature which is available for the first time beyond the Phantom family of vehicles. More than 1300 fiber optic lamps were hand-woven into the headliner to give the impression of a glittering night sky.

Powered by a twin-turbocharged V12 engine and coupled with an innovative 8-speed automatic ZF transmission, the most powerful Rolls-Royce ever built produces 624 bhp and 590 ft lbs torque from 1,500 rpm. The Satellite Aided Transmission reads the road ahead and uses GPS mapping to ensure the proper gear is selected for maximum performance even before the driver detects a change in the terrain.

Each Rolls-Royce is still built by hand by a long line of craftsmen at Rolls-Royce Motor Cars in Goodwood, England. Since 1904, Rolls-Royce has created an instantly recognizable car that has become an icon.

Park Place Premier Collection is located at 5300 Lemmon Avenue, near Love Field, in Dallas.

Ken Schnitzer founded Park Place Dealerships in 1987 with a single Mercedes-Benz dealership in Dallas. Today, Park Place Dealerships operates 16 full-service dealerships representing Bentley, Jaguar, Lexus, Lotus, Maserati, McLaren, Mercedes-Benz, Porsche, Infiniti, Volvo and Rolls-Royce. In addition, the dealership group includes two Park Place Bodywerks locations and has a third store under construction. For more information about Park Place Dealerships, visit www.ParkPlace.com.