Columnists
Crow's-Feet Chronicles: My private parts went public
Oct 15, 2013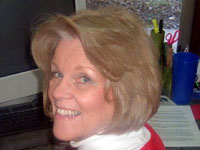 Contrary to popular belief, the best things in life are hardly free. All this rich living comes with a price. Part of the cost, quite frankly is…what's that word again? Oh yeah. Privacy.

It's nice to be sought after. But sometimes I got too much of a good thing. My pet peeve, when my kids were little, was hearing a knock on the bathroom door followed by the familiar words, "What are you doing in there?"

What did they think I was doing? Maybe kids have this weird fear that, while their bath time is reserved for boring functions of elimination, grownups aren't bound by the same rules. Maybe they thought I hid out in the bathroom so I could do really cool things I didn't let them do, like eating Gummi Bears before dinner and watching cartoons when the homework wasn't done. That's why I locked the door. I didn't want my kids knowing I was having all the fun.

My son's comfort item was my Kleenex. My USED Kleenex. That's right---the wetter, the better. He'd take it away from me and dab his cheek with it as he sleepily sucked his two middle fingers. He did that when he was bored, scared, or tired.

My daughter got a little more personal than that. She thought my right armpit belonged to her. That and my mole. It's still there . . . on my left collar bone. One day when she was three, she skinned her knee on the driveway. After I patched her up, she was still crying. I offered hugs, popsicles, gum, and more. She wouldn't stop crying. Finally, through her tears, she said, "I want your mole." She wrapped her arms around my neck, slipped a hand under my shirt, found my mole, hiccupped once, and stopped crying.

All privacy came to a halt when I became a mother. Somehow, in the process of conceiving a baby, birthing a baby, and nursing a baby, everything was up for grabs. Between nurses, doctors, and the hospital housekeeping staff, every private part I ever had seemed to become public property. When I was giving birth to my daughter, I was in la-la land. I know I was in la-la land because I remember looking at the doctor and saying thickly, "Honey, could you close the kitchen door? I think I feel a breeze."

I wasn't in the kitchen, but I did feel a breeze. The way the Labor and Delivery Room door kept revolving with hospital staff, gusts in that room must have been approach 20 mph---and me wearing nothing but a paper napkin and metal stirrups. Privacy. Hah! By the time I was a mother, I didn't have any private parts left. The skimpiest bathing suit wouldn't show anything I hadn't already revealed to total strangers in lab coats.

I was no better than one of my daughter's toys. Barbie and Big Bird were on call twenty-four hours a day: they had no personal space and got no respect, either. They had no privacy, and half the time they didn't even get to wear clothes.

Maybe I should count my blessings. I might not have gotten any more privacy than Barbie, but at least my elbows could bend.