Local News
Friends of Sam Rayburn honor Rev. W.C. Beasley
Oct 30, 2013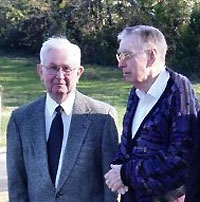 photo of Rev. Bill Beasley and the late H.G. Dulaney

Bonham, Texas -- The Friends of Sam Rayburn are pleased to announce Rev. Bill Beasley as the 2013 recipient of the H.G. Dulaney Public Service Award. The award is presented to individuals who exhibit a dedication to public service for and in the community. A banquet is held in honor of the award's recipient and serves as a fundraiser for the Friends of Sam Rayburn.

This year's award banquet will be held on Saturday, November 2 at Bonham Golf Club. The doors will open at 6:00 and service will begin at 6:30. Tickets are $40 each and can be purchased from the Sam Rayburn Library Museum, 903-583-2455.

The Friends of Sam Rayburn established the award in 2005 and named it for the first recipient, long-time Director of The Sam Rayburn Library and Museum, H.G. Dulaney. The Friends chose to honor Dulaney because he embodies the attributes for which Speaker Rayburn was known and admired – integrity, devotion to his country, and a man who is helpful to people from all walks of life. Previous winners include Elizabeth May, Dee J. Kelly, Emily Porter, Robert Weddle, Leonard Gerner and Barbara Gore.

The Friends of Sam Rayburn is a not-for-profit corporation (incorporated in Texas) that supports the Sam Rayburn House Museum and the Sam Rayburn Library and Museum. The Friends provides funds for education programs, scholarship awards, exhibits and special events, as well as providing volunteers and other support services. Acknowledging Speaker Rayburn's belief in the importance of education, the Friends have recently begun developing educational outreach programs with local colleges and universities.

The Sam Rayburn Library and Museum is a division of The Dolph Briscoe Center for American History, The University of Texas at Austin. The Sam Rayburn House Museum is operated by The Texas Historical Commission.