Front Page
Cast announced for comedy, Black Snow
Sep 30, 2013
Auditions were held and the cast was announced for the upcoming comedy, Black Snow, a play written by Mikhail Bulgakov and adapted by Keith Reddin. A cast of 14 actors will portray a total of 50 roles in this full-length play about a writer's struggle in Russia to create art.
Ronald Arron Hogue, a graduate of Anna High School, will play the lead character, Sergei Leontievich Maxudov. Hogue is a sophomore theatre major at Grayson College and played roles last season at Grayson in South Pacific, Treasure Island, and Contempt of Court.
Blake Rice will pay the nemesis to Hogue's character as he portrays the fictional director, Ivan Vasilievich, which is based on the legendary director Konstantin Stanislavsky, creator of what now is called method acting. Audiences enjoyed Blake as Emile in South Pacific at Grayson, Long John Silver in Treasure Island, and in several shows at Finley Playhouse with his most recent role in Forever Plaid.
Sophomore theatre majors at Grayson are Skyler Alton from Texarkana, Nick Ellis from Houston, and Dave Eubanks. Out of the cast of 14, there are only two women and they both play a variety of roles. Jennifer Martz is making her stage debut in this production and will portray four different characters, while freshman, Madison Sisemore, a graduate from Sherman High School, will portray five.
The freshman theatre major actors are: Brandon Langston, a Denison High graduate, Gabe Parker from Bonham High School, JT Medders from Trenton High School, Brandon Stockton from Cooper High School, AJ May from Bells, Ryan Ramirez from Rowlett, and Alex Watkins from Anna.
Black Snow will have sophomores Ginger Roberts as the Stage Manager and Jasmine Shannon as the Assistant Lighting Designer. Jordan Moore, a Pottsboro graduate and freshman will be the Assistant Stage Manager.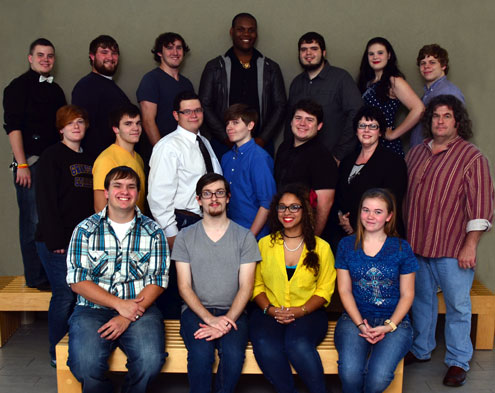 Names of Grayson College students in picture for Black Snow: Front row from left to right: Gabe Parker (actor), Arron Hogue (actor), Jasmine Shannon (Co Lighting Design), Jordan Moore (Assistant Stage Manager). Middle Row from left to right: Taylor Ginger Roberts (Stage Manager), Brandon Stockton (actor), AJ May (actor), JT Medders (actor), Ryan Ramirez (actor), Jennifer Martz (actor), Dave Eubank (actor). Back row from left to right: Dustin Meadows (crew), Blake Rice (actor), Skyler Alton (actor), Nick Ellis (actor), Brandon Langston (actor), Madison Sisemore (actor), Alex Watkins (actor)
Black Snow is the winner of the Joseph Jefferson Award for Best Play. This production is entered as a participating entry in the Kennedy Center American College Theatre Festival (KCACTF). The GC Theatre department will perform Black Snow at Grayson Oct 17 at 10am, and Oct 18 & 19 at 7:30pm. They will then pack the truck and travel to San Angelo, TX to compete with other colleges in KCACTF hosted by Angelo State University.
Black Snow, the novel, was written by Mikhail Bulgakov and is an autobiographical journey of his real dealings with The Moscow Art Theatre in the 1920s. Characters in the novel are based on real theatrical personalities such as Konstantin Stanislavsky and artists who worked with him. Stanislavsky worked withVladimir Nemirovitch-Danchenko, the managing director and together they created The Moscow Art Theatre, which still produces plays today.
This satire pokes fun at Stanislavsky by showing the extreme measures he would use with his company to create theatre, as the audience watches through Sergei's eyes of how his original story is devastated and changed by these strange people known as "artists."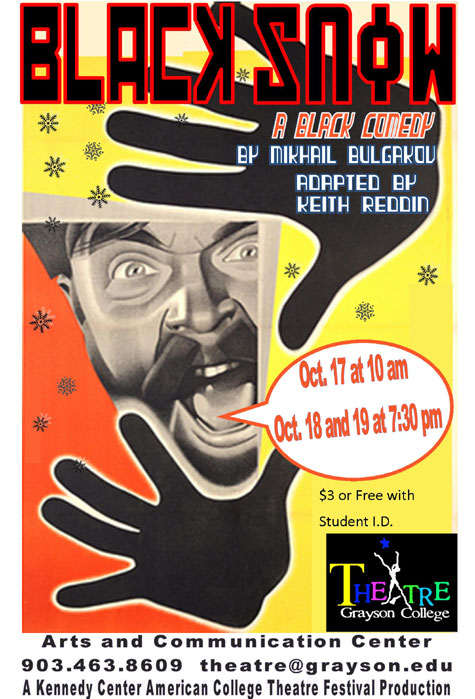 Performances of this dark comedy will be Oct 17 at 10am, Oct 18 & 19 at 7:30pm. Black Snow is rated PG due to language. Tickets are $3. For more information contact the Grayson Theatre department at 903-463-8609 or theatre@Grayson.edu.