Entertainment
Sherman Community Players present Frankenstein 1930, opening Oct. 11
Oct 17, 2013
Sherman Community Players
present
Frankenstein 1930
Written by: Fred Carmichael
Directed by: Anthony Nelson
Oct. 11– 27, 2013
Sherman Community Players kicks off its 65th anniversary season with
Frankenstein 1930. A
dapted for the stage by Fred Carmichael from the novel by Mary Shelley,
1930
follows similarly to the linear narrative of the 1931 James Whale film.
Presented through a gothic style lens and with a few liberties in the execution of the science fiction aspect of the story, this version amplifies the film's suspenseful horror and adds greater depth of character and motivation as well as a new and different love story.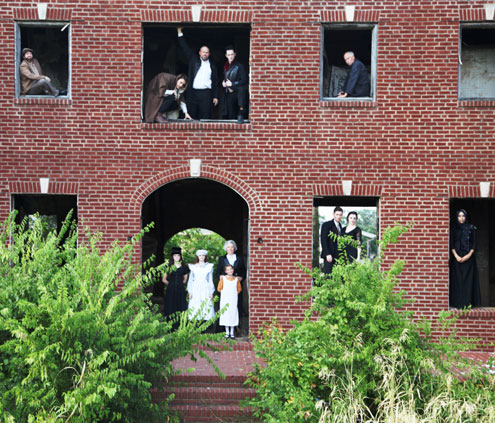 (L-R), top to bottom: Jeff Hermann, Jayk Martin, Ed Richardson, Ryan Stoll, Chuck Niemann, Daria Hauber, Sopia Hermann, Becky Smith, Faith Scheibmeir, Jared Tredway, Sarah Whilhelm, Deborah Barrax
All of the eagerly anticipated elements are here: the stone-walled laboratory, the crazed scientist, angry villagers, a swooning heroine, a fearful storm and the hideous yet pathetic, deadly creature with its confused mind and powerful, undisciplined body. In celebration of the Halloween spirit, Frankenstein 1930 may not be suitable for children under the age of thirteen.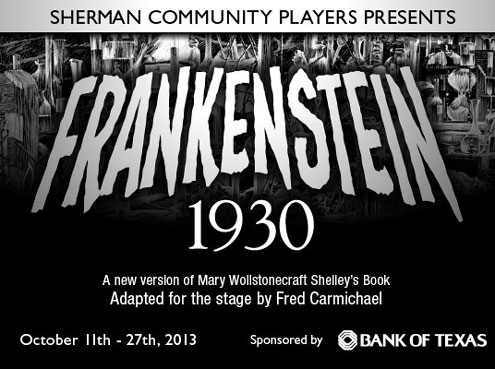 Season memberships for SCP's 65th Anniversary season are now on sale. An exciting line up of shows are slated for the 'players' diamond anniversary including: Forever Plaid: Plaid Tidings for the Christmas Holiday, Rabbit Hole by David Lindsay-Abaire, the 2007 Pulitzer Prize winning drama coming in February, Boeing Boeing is slated for the spring comedy, the 2008 Tony-winning French Farce by Marc Camoletti adapted for the English speaking stage by Cross and Evans, and then finally for SCP's annual summer musical the very popular Chicago. "For only sixty-three dollars for an adult pass and only $31 for students we have a terrific line up of shows!
And don't forget about SCP's Children's Theatre, Theatricks; it still has two great shows coming up after its very successful production of Tarzan. The Lion, The Witch, and The Wardrobe and Winnie the Pooh, explains, Artistic Director Anthony Nelson, who is beginning his second year, as the artistic leader of the longtime running Community Theatre.
Season memberships can be purchased by going to www.SCPtheater.org and downloading a season membership form and mailing it in, or you can simply come down to the Box Office beginning October 7. They can also be purchased during the performance of Frankenstein 1930, representatives from the Theater Guild will be present in the lobby to process orders.
When:
Opening Night: October 11, 2013 at 7:30 p.m.
Performance Runs: Thursday – Saturday, Oct. 11–27, curtain at 7:30 p.m. Sunday matinees begin at 2:00 p.m.
Encore performance on October 31, 2013 at 8:00 p.m.; tickets can only be purchased the night of the performance at the Finley Theatre, an hour before curtain.
Where:
The Historic Finley Theater, 500 N. Elm, Sherman TX, 75092
Tickets:
The Box Office will open for season members beginning October 7th and 8th beginning at 9am, and general admission tickets will go on sale on Wednesday October 9 at 10:00 a.m. To contact the box office, call 903-892-8818. It is located in the Honey McGee Playhouse 313 W. Mulberry St., Sherman TX, 75090.