Front Page
Kathrynís Texas Kitchen
Sep 29, 2013
A longtime reader has requested an appetizer recipe that will go with watching football games and is out of the ordinary.

Hereís one Iíve found that should fit the ticket.

Itís not only quick and easy but it is delicious as well.
The word sauerkraut comes from Germany and means sour cabbage. It is made by cutting up cabbage real thin and fermenting it. There are recipes for making your own sauerkraut but I think it is definitely easier to buy it already made. Korean kimchi is also a sauerkraut that is used in dishes in Korean restaurants.
Sauerkraut Balls
Recipe adapted fromRalph &Kacoo, A Taste of Louisiana
Ingredients
8 oz hot sausage
ľ cup chopped onion
3 oz creamed cheese
2 TB chopped parsley
1 tsp mustard
ľ tsp garlic salt
1 16-oz can sauerkraut drained
2 TB fine bread crumbs
For frying
ľ cup flour
2 large eggs at room temperature
ľ cup milk
ĺ cup Italian seasoned bread crumbs
Vegetable oil
Other Items Needed
Measuring cups and spoons
Cutting board
Chefís knife
2 Nonstick skillets
Large bowl
Small bowl
Paper towels
Instructions
Fry sausage with onion and drain. Mix other ingredients together in the bowl. Add them to the sausage and onion. Stir well. Then, chill them.
When youíre ready to fry, whisk together the eggs and milk.Add flour to make a batter. Using your hands make balls of the sausage mixture approximately the size of a golf ball. Dip each one into the liquid mixture. Coat with bread crumbs.
Heat oil in the skillet. When ready fry each ball for about 3 minutes or until light brown. Drain on paper towels. Serve hot.
The chalkboard menu for Kathrynís Texas Kitchen has another unusual appetizer on it.
Until next timeÖ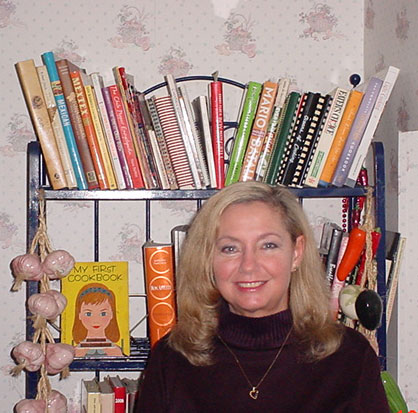 Bon appťtit!