Sports
Color Me Green 5K & Caterpillar Dash benefiting TeamConnor Childhood Cancer Foundation October 5 in Frisco Square
Oct 4, 2013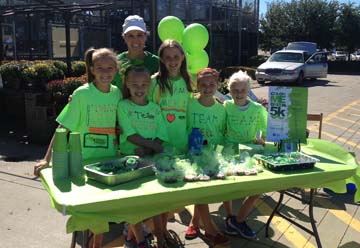 The 2nd Annual Color Me Green 5K & Caterpillar Dash benefiting TeamConnor Childhood Cancer Foundation brings together childhood cancer, patient advocates, survivors, families and the community to raise awareness and funds to find a cure. On October 5th, the Frisco Square in Frisco, TX will be transformed into a Green Square for childhood cancer awareness.
Julie Armstrong of Dallas, an avid runner and event chair of the Color Me Green race, has been a key supporter of TeamConnor Childhood Cancer Foundation since its inception. "My husband Chad started working with Northwestern Mutual about a year before Connor Cruse, the son of the managing partner, was diagnosed with neuroblastoma," said Armstrong. "I got to know Connor's parents, Tait and Joy, as well as the whole Cruse family and loved them from the start. After Connor was diagnosed, I wanted to help."
Julie became involved with TeamConnor to help the Cruse family in a time of need. "You never know when a child could be struck with cancer," said Armstrong. "Tait and Joy didn't expect it. No one does. But if it does happen, as it did to them, and so many others, I want to know I supported research to find a cure for this horrible disease."
The Color Me Green 5k & Caterpillar Dash invites people of all different ages, shapes, and sizes to unite together under one color – Green. The event kicks off with a 7:30 registration, 8:00 am Caterpillar Dash 1 mile fun run and the 8:30 am 5k. A Green Party and Awards begins at 9:30 am with face painting, bounce house, snacks, music, and obstacle course.
Entering the second year for the fun event, TeamConnor hopes to attract 400 runners and walkers his year while raising money for childhood cancer. "We are always looking for volunteers to help with the race and increase public awareness of TeamConnor and its mission," said Armstrong. For more information about Color Me Green, visit www.colormegreen5k.org.
Sponsors include Dick's Sporting Goods, Michael Johnson Performance Center, Dr. Pepper/Snapple, Wildflower Family Dentistry, Rumsey Construction, Concentra, Joy and Tait Cruse, Subway Sandwiches, and Market Street.
Every year, more than 12,400 children and adolescents are diagnosed with cancer in the United States. Childhood cancer is the number one disease killer of children, yet the budget of the National Cancer Institute allocates less than four percent of its funds to pediatric cancer research. The TeamConnor Childhood Cancer Foundation is dedicated to raising awareness and funding research and treatment programs to find a cure for all childhood cancers.
For more information, visit www.teamconnor.org or facebook.com/TeamConnor.