Entertainment
Boo Bash Costume Ball Oct. 26 at Creative Arts Center
Oct 25, 2013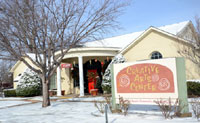 Mark your calendars for Saturday, October 26 at 8:00 p.m. and plan to attend the First Annual Boo Bash Costume Ball at the Creative Arts Center.

This event will include a Costume Contest with prizes for Wackiest, Scariest, Most Original and Best costumes, cake walks, and a palm reader. Snacks are provided - BYOB.

Some type of costume is required. Tickets will be on sale soon at the CAC and at the door. Tickets are only $10 for members and $15 for non-members, so plan on celebrating the Halloween season at the CAC. (This is an adult event.)

The Creative Arts Center is located at 200 W. 5th St.in Bonham. For more information, call the center at 903-640-2196 or visit us online at www.creativeartscenter.us.