Front Page
Adult art parties come to Bonham
Sep 26, 2013
Have you ever wanted to make a collage, paint or draw but donít know where to start? Do you like getting together with friends after work to unwind? Have you ever combined the two ideas? Thatís where art parties come in.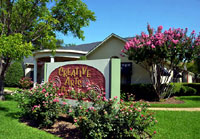 The Creative Arts Center will bring adult art parties to Bonham at 7:00 p.m. on Wednesday, October 2. ďArt on the TownĒ will provide supplies and two hours of guidance. Guests will paint, draw, make a collage or junk sculpture and each will leave the party with his or her own work of art. Participants may bring their own refreshments, spend a short time unwinding and then begin to create.

Cheryl Wilson will instruct the first class; the project will be a painting and the cost is $35 per person. Classes will be added as interest grows and include a variety of projects.

For more information or to sign up, please call the arts center at 903-640-2196. More information is also available on the website at www.creativeartscenter.us.